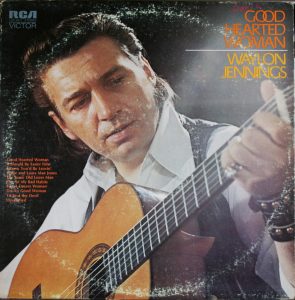 Willie Nelson And Waylon Jennings – Good Hearted Woman, a song written by Waylon Jennings and Willie Nelson, Waylon first recorded it on September 1, 1971, Willie Nelson recorded it for the RCA label, on October 21, 1971, at RCA Victor Studio, 800 17th Ave South, Nashville, TN, four songs were recorded in the recording session, Willie was accompanied in the session by: David Kirby (guitar), Chip Young (rithym guitar), Weldon Myrick (steel), Henry Strzelecki (bass), Jerry Carrigan (drums), Hargus Robbins (piano) and Charlie McCoy (harmonica). With the production Felton Jarvis. The song was not released in single.
The song was included in Willie's fourteenth studio album, The Words Don't Fit the Picture (RCA 1972).
About the song:
The album is most notable for containing Nelson's first solo recording of "Good Hearted Woman," a song he composed with his friend Waylon Jennings. Jennings, who had been fighting many of the same battles with RCA as Nelson, started writing the song and asked Nelson to help him finish it during a late-night poker game at the Fort Worther Motel on Jackson Highway in Fort Worth.By all accounts, Nelson's contribution was minimal, with his third wife Connie recalling, "The only part Willie came up with was' Through teardrops and laughter they walk through this world hand in hand. " Waylon said, ' That's it! That's what's missing 'and gave Willie half the song."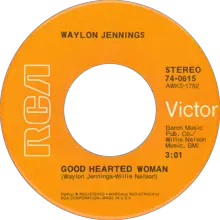 Some versions:
Waylon Jennings 1971 (RCA)
Mel Street 1972 (Metromedia Country)
Charley Pride 1972 (RCA)
The Everly Brothers 1972 (RCA)
Ernest Tubb 1972 (Decca)
Nat Stuckey 1972 (RCA)
Red Jenkins 1974 (Great Music Production)
Connie Cato 1975 (Capitol)
Waylon & Willie 1975 (RCA)
Johnny Paycheck 1982 (Epic)
And many more ……………..
Willie Nelson And Waylon Jennings – Good Hearted Womanlyrics
[Verse 1]
A long time forgotten are dreams that just felt by the way
And the good life he promised ain't what she's living today
But she never complains of the bad times or bad things he's done, Lord
She just talks about the good times they've had and all the good times to come
[Chorus]
She's a good hearted woman in love with a good timin' man
She loves him in spite of his ways she don't understand
Through teardrops and laughter they'll pass though his world hand in hand
A good hearted woman lovin' her good timin' man
[Verse 2]
He likes the night life the bright lights and good timin' friends
When the party's all over she welcome him back home again
Lord knows she don't understand him but she does the best that she can
To be a good hearted woman to a do no good good timin' man
[Chorus]
She's a good hearted woman in love with a good timin' man
And she loves him in spite of his wicked ways that she don't understand
Through teardrops and laughter they'll pass though his world hand in hand
A good hearted woman lovin' her good timin' man
She's a good hearted woman in love with a good timin' man
She loves me in spite of my wicked mouse ways and things that she don't understand