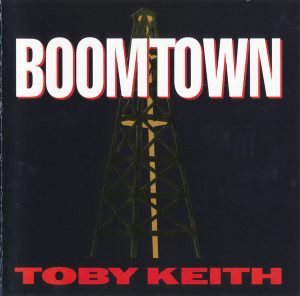 Toby Keith – You Ain't Much Fun, is a song co-written and recorded by American country music artist Toby Keith. It was released in March 1995 as the third single from his 1994 album Boomtown. The song peaked at number 2 on the US Billboard Hot Country Singles & Tracks (now Hot Country Songs) chart and at number 3 on the Canadian RPM country tracks. Keith wrote this song with Carl Goff Jr.
Award winning parodist and comedian Cody Marshall released a parody of the song called «I Don't Weigh Much», referencing his healthy diet. He closes the song with Cody screaming «Thank you very much» accompanied by an applauding sound.
«You Ain't Much Fun» debuted at number 63 on the Hot Country Singles & Tracks chart for the week of March 25, 1995.




Toby Keith – You Ain't Much Fun
From the album Boomtown
B-side «Life Was a Play»
Released March 14, 1995
Recorded 1994
Genre Country, Comedy
Length 2:26
Label PolyGram/Polydor Nashville 851728
Songwriter(s) Toby Keith Carl Goff Jr.
Producer(s) Nelson Larkin Harold Shedd
Toby Keith – You Ain't Much Fun lyrics
[Verse 1]
I used to come home late and not a minute too soon
Barking like a dog, howling at the moon
You'd be mad as an ol' red hen, up all night wonderin' where I been
I'd fall down and say come help me honey
You laughed out loud, I guess you thought it was funny
I sobered up, and I got to thinkin'
Girl you ain't much fun since I quit drinkin'
[Verse 2]
Now I'm paintin' the house and I'm mendin' the fence
I guess I gone out and lost all my good sense
Too much work is hard for your health
I could've died drinkin', now I'm killing myself
Now I'm feedin' the dog, sackin' the trash
It's honey do this, honey do that
I sobered up, and I got to thinkin'
Girl you ain't much fun since I quit drinkin'
[Verse 3]
Now I'm fixin' the sink and I'm mowin' the grass
You made me a list and I'm bustin' my, wheel
All broke down, tailspin draggin'
It's a tough ol' life up here on the wagon
Now I'm feedin' the dog, sackin' the trash
It's honey do this, honey do that
I sobered up, and I got to thinkin'
Girl you ain't much fun since I quit drinkin'
Yeah, I sobered up, and I got to thinkin'
Girl you ain't much fun since I quit drinkin'