The Renfrees – 97 Acres, We're used to hearing in song about the classic "hundred and forty acres" from the original land rush days. The Renfrees' acreage is more specifically designated. Here it represents a father's legacy in land to his sons, who now must sell, soon to watch the man's beloved property be broken up into "ranchettes" or "ranchitos" or whatever the heck city developers may choose to dub them. It's a prime example of the extra thought process inserted by Andrea and Peter Renfree.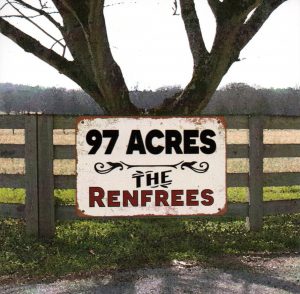 Tight musicianship and melodious, mellow-toned vocals are constants in the works of this duo. All eleven tracks of their release are done beautifully, but we'll name as picks that title track "97 Acres," "2 Sisters & A Gun," Andrea's tough-minded co-write with Mark Beets "Wings" and her song written with Benjamin Davis Corley "The Banks of the River." The album's Western Swing picks include Andrea's "Good Morning Teardrops" and "Texas Stars," her co-write with Madeline Fisher and Solie Lynn.
This release is more than "97 Acres" worth of Western delights. Eleven tracks total, very highly recommended.
CD: (available through renfrees.com)
– by Rick Huff
The Renfrees – 97 Acres
1 – Good Morning Teardrops
2 – Wings
3 – The Way She Moved Me
4 – 97 Acres
5 – 2 Sisters and a Gun
6 – Cuervo Creek
7 – Texas Stars
8 – Stained Glass and Mirrors
9 – In the Trees
10 – Las Vegas