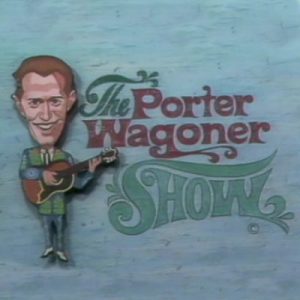 The Porter Wagoner Show Bobby Bare!.The Porter Wagoner Show was a syndicated musical variety show filmed in Nashville, Tennessee, from 1961 to 1980. It was one of the longest running, most influential, and most successful country music television shows of the late twentieth century.
In 1960 the Chattanooga Medicine Company launched a syndicated country music television show, named for its host as The Porter Wagoner Show. The program premiered on September 14, 1961. A typical show featured eight songs along with endorsement spots for products made by the Chattanooga Medicine Company. In 1972 the show became the first television program to be filmed at the television studios at Opryland. At its peak, the show was aired in nearly one hundred markets and was viewed by over three million people.
The Porter Wagoner Show Bobby Bare
Music:
For the first time ever on his show Porter Wagoner introduces Dolly Parton
Porter Wagoner – Take Me Back To Tulsa
Bobby Bare – Lorena
Dolly Parton – Dumb Blonde
Porter Wagoner – Green Green Grass Of Home
Porter Wagoner – You're Not Home Yet
Bobby Bare – They Covered Up The Old Swimmin' Hole
Dolly Parton – There's Something Fishy Goin' On' (short)
Bobby Bare – Lorena Lyrics
The years creep slowly by, Lorena
Snow is on the grass again
The sun is sinking low, Lorena
Frost is where the flowers have been.
The music softly plays, Lorena
Happy sounds have left today
The music's sad and low, Lorena
Where once it rang so loud and gay.
I hardly feel the snow, Lorena
I know the darkness soon will pass
We'll sing our songs again, Lorena
You'll be in my arms at last.
Yes, you'll be in my arms at last…