Rusted Spurs West – Arizona Stars, Here's this group's first "post COVID CD," which means…aside from the outlaw songs…there were no masks to be seen! The release marks another first. They've included some fine original songs this time.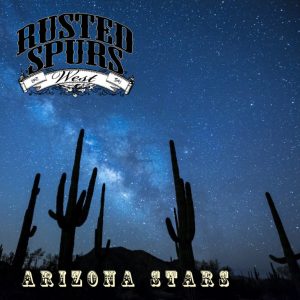 Rusted Spurs West is a mellow acoustic trio in the grand mold of such classic and Western revival groups as The Frontiersmen & Joanie and The Lobo Rangers. They are Tex & Patti Hamel (accordion & acoustic guitar respectively plus lead and harmony vocals) and Slim Denoncourt (bass plus lead & harmony vocals). The tasteful support of Alvin Blaine's lap steel & dobro and Nick Coventry's fiddle completes the package.
Original picks include "That's How The Cowgirl Swings (although lyrically it seems to be "The Way The" rather than "How The"!), the easy lope title track "Arizona Stars" and "Sonoran Desert Winds" (which reminds me of IWMA Hall Of Famer Hi Busse's style of chord modulations). Cover picks are "Ki Yi Yippee" (by former band member Mark Halverson), Louise Massey's "Adobe Hacienda," the Irish instrumental medley "Cowboy Ceilidh," the swinging "Hanging Around" and Bob Nolan's "Happy Rovin' Cowboy." Thirteen tracks, highly recommended.
CD: (available through rustedspurswest.com)
– by Rick Huff
Rusted Spurs West – So Long Arizona