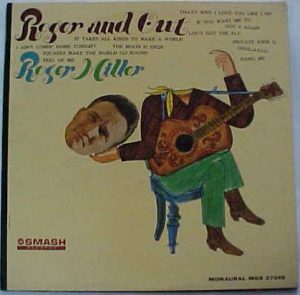 "Dang Me" is a song by American country music artist Roger Miller, and 1964's Grammy Award winner for Best Country & Western Song. It was Miller's first chart-topping country hit and first Top Ten pop music hit, and it was a novelty song whose "jazzy instrumental section" helped make it "the quintessential example of Miller's lighthearted humor, which brought him many more hits".
"Dang Me" has appeared on recordings by at least eight other performers as disparate as Buck Owens and Johnny Cash on his 1999 album Folsom Prison Blues, Johnny Rivers recorded live in 1964 on Here We à Go Go Again!, Sammy Davis, Jr. on the live album That's All (1967), and Sweet G.A. Brown on his Miller Time album in 2011. The Hollies, with Graham Nash in the band, performed it live on tour in 1968. Singer-songwriter Buddy Miller (no relation to Roger Miller) covered it on his album "Majestic Silver Strings" in 2011. Widespread Panic covered the tune as en encore during their acoustic tour on February 11, 2012.




On U.S. Billboard Hot Country Singles Reached #1. The song spent 25 weeks on the Billboard country-music chart, reaching number one, and peaked at number seven on the magazine's pop chart. It went on to appear on numerous Miller compilations. On film or tape, Miller performs it, with other songs, in the 1966 concert film The Big T.N.T. Show, and as part of a closing-number medley on season three, episode #21, of The Muppet Show in 1979.
B-side "Got Two Again"
Released May 1964
Genre Country
Length 1:47
Label Smash
Songwriter(s) Roger Miller
Producer(s) Jerry Kennedy
Roger Miller – Dang Me lyrics
Well, here I sat high, getting ideas
I ain't nothing but a fool to live like this
Out all night, and running wild
Woman sitting home with a month old child
So
So Dang me, Dang me
They ought to take a rope and hang me
High, from the highest tree
Woman would you weep for me
BeupBeupBeupBeupBeupBeupBuem
One More
BeupBeupBeupBeupBeupBeupBuem
Just sitting round drinking with the rest of the guys
Six rounds bought, and I bought five
Spent the groceries and half the rent
Like 14 dollers and 27 cents
So Dang me, Dang me
They ought to take a rope and hang me
High, from the highest tree
Woman would you weep for me
BeupBeupBeupBeupBeupBeupBuem
One More
BeupBeupBeupBeupBeupBeupBuem
They say roses are red, and violets are purple
Sugars sweet and so is maple suprple
But I'm the seventh out of the seven sons
My pappy was a pistol, I'm a son of a gun
So Dang me, Dang me
They ought to take a rope and hang me
High, from the highest tree
Woman would you weep for me
BeupBeupBeupBeupBeupBeupBuem
One More