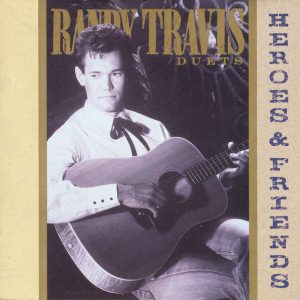 "Heroes and Friends" is a song co-written and recorded by American country music artist Randy Travis. It was written with Don Schlitz. It was released in January 1991 as the second and final single from his album of duets, Heroes & Friends and his only song on the album that was not a duet. The song opens and closes the album. "Heroes and Friends" peaked at number 3 on the Billboard Hot Country Singles & Tracks chart and reached number 1 (his fourteenth number 1) on the Canadian RPM Country Tracks chart.
This song sets the theme for the rest of the album. The narrator says that the two things that one can depend on forever are heroes and friends. A reprise of the song closes the album with the chorus being sung by everyone who sang on the album with Travis.




Two different versions were released for radio airplay. One version has just one refrain (after the second verse), with the background vocalists — some of the legends that joined him throughout the album — subdued in the background. The longer radio edit repeats the refrain twice following the second voice, with the legends chorus more prominent; a longer fiddle coda is played as well, whereas on the shorter radio edit the song fades almost immediately after the final refrain ends.
From the album Heroes & Friends
B-side "Shopping for Dresses" (w/ Loretta Lynn)
Released January 1991
Genre Country
Length 2:10 1:58 (reprise)
Label Warner Bros. Nashville 19469
Songwriter(s) Don Schlitz Randy Travis
Producer(s) Kyle Lehning
Randy Travis – Heroes And Friends Lyrics
I ain't lived forever, but I've lived enough
I've learned to be gentle, and I've learned to be tough
I've found only two things that last 'til the end,
One is your heroes, the other's your friends
[Chorus:]
Your heroes will help you find good in yourself
Your friends won't foresake you for somebody else
They'll both stand beside you through thick and through thin
That's how it goes with heroes and friends
I grew up with cowboys I watched on TV
My friends and I sometimes pretended to be
Years have gone by, but now and again
My heart rides the range with my heroes and friends
[Repeat chorus]