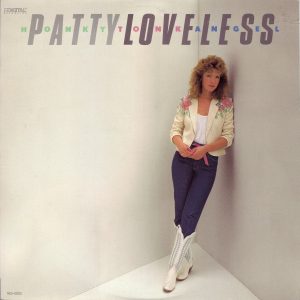 Patty Loveless – Chains, is a song written by Hal Bynum and Bud Reneau, and recorded by American country music artist Patty Loveless. It was released in December 1989 as the fifth single from her album Honky Tonk Angel.
Was Loveless's second career No. 1 hit, with both this song and the earlier "Timber I'm Falling In Love" coming from Honky Tonk Angel.
In its original form, the song had a much slower tempo than the one recorded by Loveless. Tony Brown, one of her producers at the time, decided to speed up the tempo for the arrangement she recorded.
The song charted for 26 weeks on the Billboard Hot Country Singles and Tracks chart, reaching No. 1 during the week of March 10, 1990.
Patty Loveless – Chains
From the album Honky Tonk Angel
B-side "I'm On Your Side"
Released December 1989
Recorded May 1988
Genre Country
Length 2:27
Label MCA Nashville 53764
Songwriter(s) Hal Bynum Bud Reneau
Producer(s) Tony Brown
Patty Loveless – Chains lyrics
Bought a ticket to Seattle but I can't get to the plane
Everytime I leave you I keep running out of chain
I hunger for your love it never gives me any slack
But if I ever break away, I'm never coming back to these
Chains, chains, shackles and chains
No matter what it takes some day I'm gonna break these
Chains, chains, shackles and chains
These love taking, heart breaking
Cold, hard, lonely making chains
You never try to hold me 'till you see me walking out
I guess you'd rather be with me than ever be without
You call me back and kiss me and my heart begins to sink
When I know that all you're doing's
Taking up another link in these
Chains, chains, shackles and chains
No matter what it takes some day I'm gonna break these
Chains, chains, shackles and chains
These love taking, heart breaking
Cold, hard, lonely making chains
Love was never meant to be a one-way street
I was never meant to be falling at your feet
You got me where you want me
And I don't know what to do
You don't belong to me but I belong to you in these
Chains, chains, shackles and chains
No matter what it takes some day I'm gonna break these
Chains, chains, shackles and chains
These love taking, heart breaking
Cold, hard, lonely making chains…