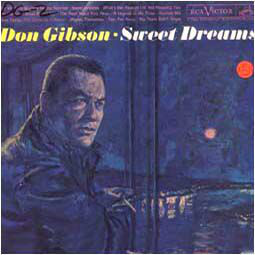 "Sweet Dreams" or "Sweet Dreams (of You)" is a country ballad, which was written by Don Gibson. Gibson originally recorded the song in 1955; his version hit the top ten of Billboard's country chart, but was eclipsed by the success of a competing version by Faron Young. In 1960, after Gibson had established himself as a country music superstar, he released a new version as a single. This version also charted in the top ten on the country chart and also crossed over to the Billboard Hot 100, where it peaked at number ninety-three. The song has become a country standard, with other notable versions by Patsy Cline and Emmylou Harris.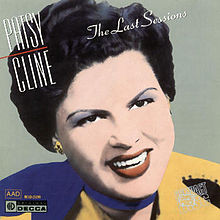 In early 1963, Patsy Cline was recording songs for her next album, Faded Love, which was set for release in late March, 1963. She recorded "Sweet Dreams" for the album on February 5. However, on March 5, Cline died in a plane crash on the way home from a benefit in Kansas City, Missouri, the album was never released. The songs were later compiled for the release Patsy Cline the Last Sessions in 1988.
Instead, Decca Records issued a double album, entitled The Patsy Cline Story, in the summer of 1963




In 1963, "Sweet Dreams" was released to the public and became a big crossover hit, making it to #5 on the country charts and to #44 on the pop music charts. It also peaked on the U.S. Adult Contemporary charts at #15. This song was followed by two other songs that were planned for release on Cline's upcoming album: "Leavin' on Your Mind" and "Faded Love", which both became hits.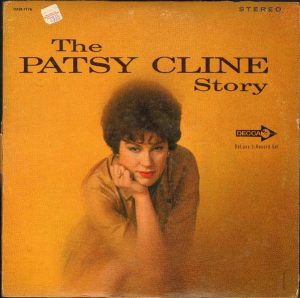 From the album The Patsy Cline Story
B-side "Back In Baby's Arms"
Released April 1963
Recorded February 5, 1963
Studio Bradley Film & Recording Studio, Nashville, Tennessee
Genre Country
Length 2:31
Label Decca
Songwriter(s) Don Gibson
Producer(s) Owen Bradley
Patsy Cline – Sweet Dreams (Of You) lyrics
Sweet dreams of you
Every night I go through
Why can't I forget you and start my life anew
Instead of having sweet dreams about you
You don't love me, it's plain
I should know, I'll never wear your ring
I should hate you the whole night through
Instead of having sweet dreams about you
Sweet dreams of you
Things I know can't come true
Why can't I forget the past, start loving someone new
Instead of having sweet dreams about you