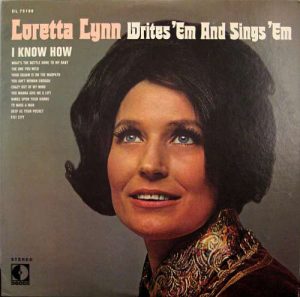 «I Know How» is a song written and originally performed by American country music artist Loretta Lynn. It was released as a single in February 1970 via Decca Records.
Was recorded at the Bradley's Barn on December 23, 1969. Located in Mount Juliet, Tennessee, the session was produced by renowned country music producer Owen Bradley. Two additional tracks were recorded during this session.
Reached number four on the Billboard Hot Country Singles survey in 1970. The song became her seventeenth top ten single on the country chart. Additionally, the song peaked at number thirteen on the Canadian RPM Country Songs chart during this same period. It was included on her studio album, Loretta Lynn Writes 'Em & Sings 'Em (1970).




From the album Loretta Lynn Writes 'Em & Sings 'Em
B-side «Journey to the End of My World»
Released February 1970
Recorded 23 December 1969
Bradley's Barn, Mount Juliet, Tennessee, U.S.
Genre Country
Length 2:31
Label Decca
Songwriter(s) Loretta Lynn
Producer(s) Owen Bradley
Loretta Lynn – I Know How Lyrics
Yeah I love him like he wants me to and I know how
And it's my duty to know his moods when he gets moody
Yeah I give him what he needs and that's why I'm his right now
Yes I know I love him right cause I know how yeah I know how
Yes I know how to hold him when he needs holdin'
And I know how to kiss him when he needs kissin'
I understand his every wish and his every wish is mine
Yes he knows I love to love him and I know how yeah I know how
[ piano ]
Yes I know how to hold him…
You better believe I know how