"She's All I Got", a song written by Gary U.S. Bonds and Jerry Williams Jr. was first recorded by R&B singer Freddie North, released in 1971 on the Mankind Records label.
Johnny Paycheck recorded it for the Epic label in August 1971 at Columbia Recording Studio, 34 Music Sq. East, Nashville, TN. The song was released on October 9, 1971, produced by Bill Sherrill. On December 18, 1971, it reached # 2 on the US Hot Country Songs charts, and spent a total of 19 weeks on the charts. On the Canadian RPM Country Tracks charts, it also peaked at # 2. It was Johnny Paycheck's first job for Epic.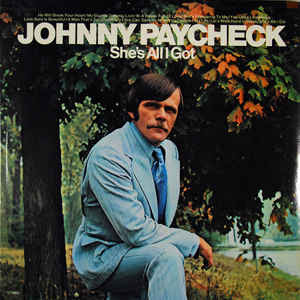 The song was included in Johnny Paycheck's eighth studio album, "She's All I Got" (Epic 1971), the album was released in December 1971, and peaking at # 5 on the US Top Country Albums charts, at 26. February 1972, and spending a total of 27 weeks on the charts. The album Reissued on CD by Koch Records in 2000.
What makes the album tick is that the singer and producer found common ground by silencing both Paycheck's rough country hardcore and Sherrill's lush layered arrangements. The strings have been left behind, but there are a lot of crying choirs and steel guitars, and even when the production is a bit thick for a Paycheck song, or the tempos a bit too lively, it works because the material is top-notch, because Sherrill's production is skillful and responsive, and of course because Johnny Paycheck is a magnificent singer, he easily adapts his style to this setting. With its romantic bent, it may be something of an anomaly within their catalog, but it certainly stands as one of their consistently the greatest albums of Johnny Paycheck.




Some versions:
Loretta Lynn 1972 (Decca)
Tommy Overstreet 1972 (Dot Records)
Jack Barlow 1972 (Dot Records)
Conway Twitty 1972 (Decca)
Jan Howard 1972 (Decca)
Norma Jean 1972 (RCA)
George Jones 1972 (Epic)
Roy Clark 1972 (Dot Records)
Tanya Tucker 1972 (Columbia)
Nat Stuckey 1972 (RCA)
Tracy Byrd 1996 (MCA)
Moe Bandy 1997 (Intersound)
Connie Smith 2012 (Bear Family Records)
Johnny Paycheck – (Don't Take Her) She's All I Got lyrics
Well, I say, friend, don't take her, she's all I've got
Please, don't take her love away from me
I'm beggin' you, friend, don't take her, she's all I've got
She's everything in life I'll ever need
She is life when I wanna live
She's everything to me in life that life can give
She's my water when I need to drink
She's the first thought in my mind each time I try to think
Let me tell you now, friend…
She's my fingers when I want to feel
She's the only thing in life to me that's really real
She is love, she's all the love I know
She could kiss the ground in the wintertime and make the flower grow
Let me tell you now, friend…