Hank Williams – Honky Tonk Blues, was a hit country and western song written and performed by Hank Williams. The original 1952 recording was a major hit, and it later became a hit for later-day superstar Charley Pride.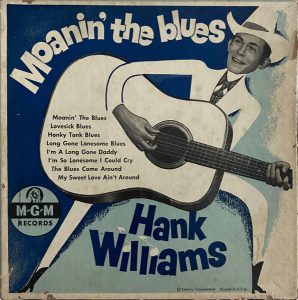 Is one of the most problematic songs Williams ever recorded. According to Colin Escott's 2004 Williams memoir, Hank and producer Fred Rose had attempted to record the song several times previously: in August 1947 (the session that produced the novelty "Fly Trouble"); in March 1949 (this version featured a light, jazzy feel and an intricate solo from guitarist Zeb Turner, but Hank broke meter and it was abandoned); and again in June 1950. The backing on the December 1951 session is believed to have been Don Helms (steel guitar), Jerry Rivers (fiddle), possibly Sam Pruett (electric guitar), probably Jack Shook (acoustic guitar), and Ernie Newton or Howard Watts (bass). The song was about a young farmboy who leaves his father's farm for the enticements of the city, only to become worn down and disillusioned. The version that was released did not contain all the lyrics on his original demo; the next-to-last verse in which Maw and Paw are "really gonna lay down the law" was missing, emphasizing in a way that Hank himself never made it back from the honky-tonks to pappy's farm. Williams' version reached No. 2 on the Billboard magazine country best-sellers chart.
The title served as the name for a documentary about Williams broadcast by PBS as part of its American Masters series. The documentary was also shown at the 48th London Film Festival in 2004.
Hank Williams – Honky Tonk Blues
From the album Moanin' the Blues
B-side "I'm Sorry for You, My Friend"
Published November 30, 1948 Acuff-Rose Publications
Released February 1952
Recorded December 11, 1951
Studio Castle Studio, Nashville
Genre Country & Western, Honky-tonk, Country blues
Label MGM 11160
Songwriter(s) Hank Williams
Producer(s) Fred Rose
Hank Williams – Honky Tonk Blues Lyrics
Well I left my home down on the rural route
I told my paw I'm going steppin out and get the
Honky tonk blues
Yeah the honky tonk blues
Well Lord I got 'em
I got the ho-on-ky tonk blues
Well I went to a dance and I wore out my shoes
Woke up this mornin wishin I could lose
Them jumpin honky tonk blues
Yeah the honky tonk blues
Well Lord I got 'em
I got the ho-on-ky tonk blues
Well I stopped into every place in town
This city life has really got me down
I got the honky tonk blues
Yeah the honky tonk blues
Well Lord I got em
Got the ho-on-ky tonk blues
I'm gonna tuck my worries underneath my arm
And scat right back to my pappy's farm
And leave these honky tonk blues
Yeah the honky tonk blues
Well Lord I got 'em
I got the ho-on-ky tonk blues