Eddy Arnold – Take Me in Your Arms and Hold Me, is a classic country song originally recorded by Eddy Arnold in 1949. The song was written by Cindy Walker, a prolific songwriter who wrote many hits for country artists in the 1940s and 1950s.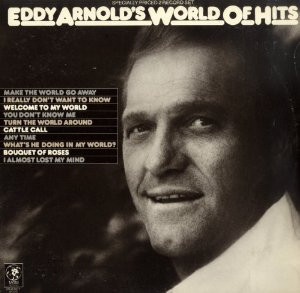 The song is a beautiful and romantic ballad about the desire to be held and comforted by the person you love. Eddy Arnold's smooth and expressive voice perfectly captures the emotions of the lyrics, making this song a timeless classic of country music.
Over the years, «Take Me in Your Arms and Hold Me» has been covered by many other country artists, including Connie Francis, Patsy Cline, and Tammy Wynette. Each version brings its own unique interpretation to the song, but Eddy Arnold's original recording remains the definitive version of this classic ballad.
Eddy Arnold – Take Me in Your Arms and Hold Me
From the album Copilation Eddy Arnold's World Of Hits 1976
A-side "Mama And Daddy Broke My Heart"
Released 1949
Genre Country
Length 2:24
Label RCA Victor
Songwriter(s) Cindy Walker




Eddy Arnold – Take Me in Your Arms and Hold Me Lyrics
Take me in your arms and hold me
Like I've been holding you in my heart
Take me in your arms and tell me
That you've missed me since we've been apart
You just don't know how heartsick
And lonesome I've been
Or how much I've prayed
That you'll come back again
And take me in your arms and hold me
Like I've been holding you in my heart
(You just don't know how heartsick)
(And lonesome I've been)
Or how much I've prayed
That you'll come back again
And take me in your arms and hold me
Like I've been holding you in my heart…