Crystal Gayle – Talking in Your Sleep, is a song written by Roger Cook and Bobby Wood. The first recorded version of the song is by the band Marmalade.
Was most successful when recorded by American country music artist Crystal Gayle. It was released in January 1978 as the first single from the album When I Dream. The song became a hit on both the country and pop charts in 1978. It peaked at number one on the US Country chart for two weeks, number eighteen on the US Pop chart and number three at the US Adult Contemporary chart.
In 1977, Gayle achieved international crossover Pop success for the first time with her No. 1 hit "Don't It Make My Brown Eyes Blue". Following the song's success, Gayle was recording more Pop and Adult Contemporary-styled Country tunes. This song is one of the first examples of this. "Talking in Your Sleep" was released in early 1978, and was a hit mid-year. The song proved an instant follow-up for Gayle on the Pop charts, being she hadn't had another Top 40 Pop hit since "Don't It Make My Brown Eyes Blue" the previous year.
Was released on Gayle's major-selling album from that year called When I Dream. Following "Talking in Your Sleep"'s success as a crossover smash, Gayle only achieved one more Top 40 Pop hit as a solo artist, which came the next year with the song, "Half the Way". She also reached the Top Ten in 1982 with the hit single "You and I" a duet with Eddie Rabbitt.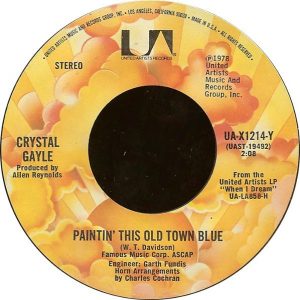 Crystal Gayle – Talking in Your Sleep
From the album When I Dream
B-side "Painting This Old Town Blue"
Released January 6, 1978
Recorded 1977
Genre Country pop, soft rock
Length 3:04
Label United Artists
Songwriter(s) Roger Cook, Bobby Wood
Producer(s) Allen Reynolds




Crystal Gayle – Talking in Your Sleep Lyrics
[Verse 1]
Three o'clock in the morning
And it looks like it's gonna be
Another sleepless night
I've been listening to your dreams
And getting very low
Wondering what I can do
[Verse 2]
Maybe I'm being foolish
'Cause I haven't heard you mention
Anybody's name at all
How I wish I could be sure
It's me that turns you on
Each time you close your eyes
I've heard it said that dreamers never lie
[Chorus]
You've been talking in your sleep
Sleeping in your dreams
With some sweet lover
Holding on so tight
Loving her the way
You used to love me
Talking in your sleep
With loving on your mind
[Verse 3]
Maybe I'm being foolish
'Cause I haven't heard you mention
Anybody's name at all
How I wish I could be sure
It's me that turns you on
Each time you close your eyes
I've heard it said that dreamers never lie
[Chorus]
You've been talking in your sleep
Sleeping in your dreams
With some sweet lover
Holding on so tight
Loving her the way
You used to love me
Talking in your sleep
With loving on your mind
[Tag]
You've been talking in your sleep