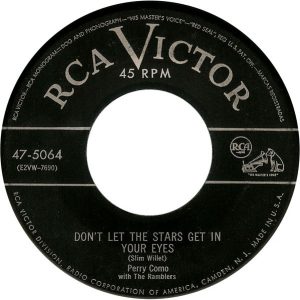 Skeets McDonald – Don't Let the Stars Get in Your Eyes, is a country song about a man away from home who is worried that his paramour may unwittingly stray from their relationship. The song was recorded in many different styles by many artists. It was written by Winston L. Moore (whose stage name was Slim Willet) and published in 1952. Perry Como's recording of the song became a No. 1 hit in both the US and UK.
The most popular recording of the song, selling over a million and a half copies, was a pop version recorded by Perry Como with The Ramblers on November 4, 1952. It was released in several countries.
Skeets McDonald followed with a Western swing version, reaching No. 1 and staying on the Country charts for 18 weeks. His version was released by Capitol Records.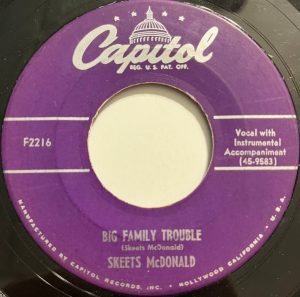 Skeets McDonald – Don't Let the Stars Get in Your Eyes
B-Side: Big Family Trouble
Sello: Capitol Records – F2216
Formato: Vinilo, 7″, 45 RPM, Single
País: US
Publicado: 1952
Género: Folk, World, & Country
Estilo: Country
Written: Slim Willet
Skeets McDonald – Don't Let the Stars Get in Your Eyes lyrics
[Chorus]
Don't let the stars get in your eyes
Don't let the moon break your heart
Love blooms at night in daylight it dies
Don't let the stars get in your eyes
[Post-Chorus]
So keep your heart for me for someday I'll return
And you know you're the only one I'll ever love
[Verse 1]
Too many nights, too many stars
Too many moons to change your mind
If I'm gone too longm don't forget where you belong
When the stars come out remember you are mine
[Chorus]
Don't let the stars get in your eyes
Don't let the moon break your heart
Love blooms at night in daylight it dies
Don't let the stars get in your eyes
[Post-Chorus]
So keep your heart for me for someday I'll return
And you know you're the only one I'll ever love
[Instrumental Break]
[Verse 2]
Too many miles, too many days
Too many nights to be alone
So please keep your heart while we're apart
Don't stand in the moonlight while I'm gone
[Chorus]
Don't let the stars get in your eyes
Don't let the moon break your heart
Love blooms at night in daylight it dies
Don't let the stars get in your eyes
[Post-Chorus]
So keep your heart for me for someday I'll return
And you know you're the only one I'll ever love