Carlos Washington's Steel Horse Swing – A Little Western A Little Swing
As anticipated, here is the five-song EP with those single releases we've seen trickling in from this pristine band for more than a year. Carlos Washington confirms the plan was to give individual songs a fair shot at airplay, and apparently it worked well enough!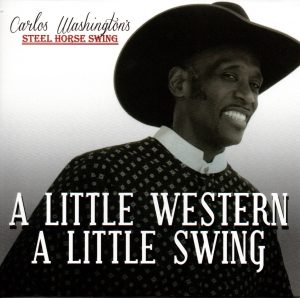 Included here are his personal assessment song "Little Bit of Western Little Bit of Swing" (in his case those "little bits" really should be "lots"), "Got to See the West" (before it's gone), Dennis Anderson & David Sexton's "One Way to Swing" (heel-to-toe vs. heading and heeling), "Party on Piedre Lumbre" (the critters git after it after dark) and Toy Caldwell's easy swinger "Desert Skies." Prominent guests include Ernie Martinez, Hailey Sandoz and others who nicely compliment the mellow proceedings.
The effect of Carlos Washington's Steel Horse Swing isn't that of what you might call a "blow the roof off" show band. The members are beautifully attuned to the mission: keep 'em happy and keep 'em moving. You should find this collection works nicely in both departments. Highly recommended.
EP: (available through steelhorseswing.com)
– by Rick Huff
Carlos Washington's Steel Horse Swing – A Little Western A Little Swing
Track List List
1 – Little Bit of Western, Little Bit of Swing
2 – Got to See the West
3 – One Way to Swing
4 – Party on Piedra Lumbre
5 – Desert Skies