Buck Owens – Johnny B Goode, is a 1958 rock song written and first recorded by Chuck Berry. Released as a single, it peaked at number two on Billboard magazine's Hot R&B Sides chart and number eight on its pre-Hot 100 chart.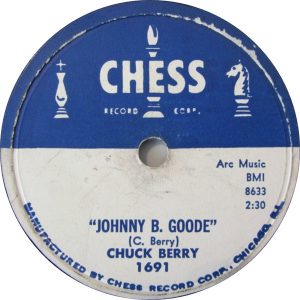 «Johnny B. Goode» is considered one of the most recognizable songs in the history of popular music. Credited as «the first rock & roll hit about rock & roll stardom», it has been recorded by many other artists and has received several honors and accolades, including being ranked seventh on Rolling Stone's list of the «500 Greatest Songs of All Time» and included as one of the 27 songs on the Voyager Golden Record, a collection of music, images, and sounds designed to serve as a record of humanity.
«Johnny B. Goode» has been recorded by a wide variety of artists in different genres. In 1969, country musician Buck Owens's version topped Billboard magazine's Hot Country Sides chart.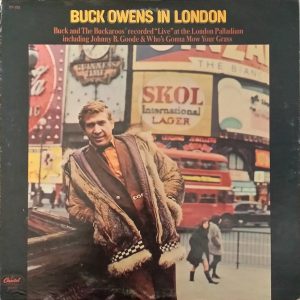 Buck Owens – Johnny B Goode
From Album: Buck Owens In London
B-Side: Maybe If I Close My Eyes (It'll Go Away)
Sello: Capitol Records – 2485
Formato: Vinilo, 7″, 45 RPM, Single, Promo
País: US
Publicado: may 1969
Género: Rock, Folk, World, & Country
Songwriter(s) Chuck Berry
Producer(s) Ken Nelson
Buck Owens – Johnny B Goode lyrics
Deep down in Lousiana, close to New Orleans
Back up in the woods among the evergreens
There stood an old cabin made of earth and wood
Where lived a country boy named Johnny B.Goode
Who'd never, ever learned to read or write, so well
But he could play a guitar just like a ringin' a bell
Go, go, go, Johnny go, go
Go Johnny go, go, go, Johnny go
Go, go, go, go, Johnny go
Go, go, Johnny B Goode
He used to carry his guitar in a gunny sack
Sit beside the tree by the railroad track
The engineer would see him sittin' in the shade
Listen to the rhythm that the drivers made
The people comin' by they would stop and say
Oh, my but that little country boy could play
Go, go, go, Johnny go, go
Go, Johnny go, go, go, Johnny go
Go, go, Johnny B Goode
— Instrumental —
His mama told him someday you will be a man
And you will be the leader of a big old band
Many people come from miles around
To hear you play your music till the sun goes down
Maybe someday your name will be in lights
A sayin' Johnny B Goode tonight
Go, go, go, Johnny go, go
Go, Johnny go, go, go, Johnny go
Go, go, Johnny B Goode…