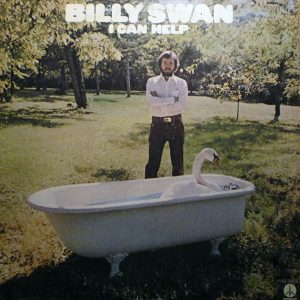 Billy Swan – I Can Help, is a song written and performed by Billy Swan. Released in July 1974, the song was a big crossover smash, reaching No. 1 on both the Billboard Hot 100 and Hot Country Singles charts late that fall. Although Swan had other charting singles on both the Hot 100 and country charts, the song is generally recognized as being Swan's only major hit single release. However, Swan had continued success as a songwriter for other artists and as a session musician.
In addition to being a No. 1 country and pop hit, "I Can Help" reached No. 6 on Billboard's Hot Adult Contemporary Singles chart and No. 6 on the United Kingdom's Record Retailer chart. In addition, the song was a hit throughout most of Europe and also reached No. 1 in Australia. "I Can Help" was so successful in Norway that it charted for 37 weeks on the Norwegian charts (VG-lista Top 10), making it the 4th best-performing single of all time in that country.
"I Can Help" is certified gold for sales of 1,000,000 units by the Recording Industry Association of America. In U.K., it has "Silver" certification, and in France, it has sales about 700,000.
Billy Swan – I Can Help
From the album I Can Help
B-side "Ways of a Woman in Love"
Released July 1974
Genre Rockabilly, country
Length 2:58 (single edit)
4:01 (album version)
Label Monument
Songwriter(s) Billy Swan
Producer(s) Chip Young and Billy Swan
Billy Swan – I Can Help Lyrics
If you got a problem
Don't care what it is
If you need a hand
I can assure you this
I can help
I got two strong arms, I can help
It would sure do me good to do you good
Let me help
It's a fact that people get lonely
Ain't nothing new
But a woman like you, baby
Should never have the blues
Let me help
I got two for me, let me help
It would sure do me good to do you good
Let me help
When I go to sleep at night
You're always a part of my dream
Holding me tight
And telling me everything I wanna hear
Don't forget me, baby
All you gotta do is call
You know how I feel about ya
If I can do anything at all
Let me help
If your child needs a daddy, I can help
It would sure do me good to do you good
Let me help
[Musical Interlude]
When I go to sleep at night
You're always a part of my dream
Holding me tight
And telling me everything I wanna hear
Don't forget me, baby
All you gotta do is call
You know how I feel about you
If I can do anything at all
Let me help
If your child needs a daddy, I can help
It would sure do me good to do you good
Let me help