Travis Tritt – Anymore, is a song co-written and recorded by American country music artist Travis Tritt. It was released in September 1991 as the second single from his album It's All About to Change. It peaked at number 1 in both the United States and Canada, becoming his second number-one hit in the United States, and his fourth number-one in Canada. The song was written by Tritt and Jill Colucci.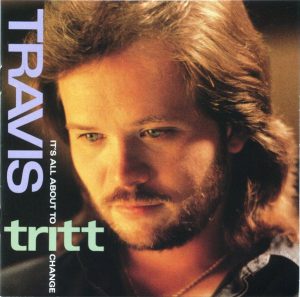 The music video was directed by Jack Cole and was the first of a trilogy of music videos (the second being «Tell Me I Was Dreaming» in 1995, and the third being «If I Lost You» in 1998) that tell the story of a veteran named Mac Singleton, who uses a wheelchair. Tritt portrays Mac Singleton, who is struggling through his time at a rehabilitation clinic after being injured in the Vietnam War, and has nightmares about the war every night. He meets a friend named Al (portrayed by Barry Scott) after awakening from one of his nightmares. Singleton is also struggling from being away from his wife Annie.
The video was featured in CMT's 100 Greatest Music Videos in 2004, where it ranked at No. 64.
Travis Tritt – Anymore
From the album It's All About To Change
B-side «It's All About to Change»
Released September 2, 1991
Genre Country
Length 3:47
Label Warner Bros. Nashville
Songwriter(s) Travis Tritt, Jill Colucci
Producer(s) Gregg Brown
Travis Tritt – Anymore Lyrics
[Verse 1]
I can't hide the way I feel about you
Anymore
I can't hold the hurt inside, keep the pain out of my eyes
Anymore
[Chorus]
My tears no longer waiting
My resistance ain't that strong
My mind keeps recreating
A life with you alone
And I'm tired of pretending
I don't love you anymore
[Verse 2]
Let me make one last appeal to show you how I feel
About you (Mhm)
'Cause there's no one else, I swear, holds a candle anywhere
Next to you (Mmm-hmm)
[Chorus]
My heart can't take the beating
Not havin' you to hold
A small voice keeps repeating
Deep inside my soul
It says I can't keep pretending
I don't love you anymore
[Bridge]
I've got to take the chance or let it pass by
If I expect to get on with my life
[Guitar Solo]
[Chorus]
My tears no longer waiting
Oh, my resistance ain't that strong
But my mind keeps recreating
A life with you alone
And I'm tired of pretending
I don't love you anymore
[Outro]
Anymore
Anymore