Jimmy Wakely – One Has My Name (The Other Has My Heart), is a 1948 song by singing cowboy Eddie Dean, his wife Lorene "Dearest" Dean, and Hollywood songwriter Hal Blair. The song was first recorded by Jimmy Wakely and was his third release on the Folk Best Seller charts and his first number one. Within two years of the song's release, two additional versions of "One Has My Name (The Other Has My Heart)" made the country charts, recorded by Eddie Dean and by Bob Eberly.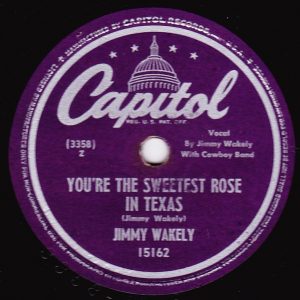 Other cover versions
In 1965, Barry Young recorded his version which reached number 13 on the Billboard Hot 100.
Also in 1965, Gene Pitney and George Jones recorded a version during their collaboration.
Al Martino recorded a version for his 1966 album, "Spanish Eyes".
In 1969, Jerry Lee Lewis recorded the song which reached number three on the country chart.
Jimmy Wakely – One Has My Name (The Other Has My Heart) Lyrics
One has my name, the other has my heart
With one I'll remain, that's when my heartaches start
One has brown eyes, the other's eyes are blue
To one I am tied, but to the other I am true
One has my love, the other has only me
But what good is love to a heart that can't be free
So I'll go living my life just the same
While one has my heart and the other has my name
One has my love, the other only me
But what good is love to a heart that can't be free
If I could live over my life I would change
The one who has my heart would also have my name