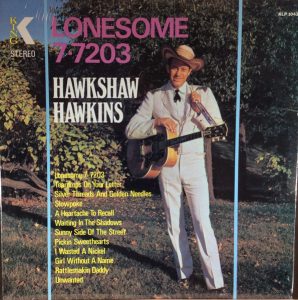 Hawkshaw Hawkins – Lonesome 7-7203
Is a 1963 single by Hawkshaw Hawkins, written by Justin Tubb. It was the final single release of his career, released in 1963 on the King label.
Was Hawkins's first chart entry since «Soldier's Joy» in 1959. It spent twenty-five weeks on the Billboard Hot Country Singles charts, peaking at No. 1 on the chart dated for May 4, 1963. Three days after its release, Hawkins died in an airplane crash which also killed Patsy Cline and Cowboy Copas. Two weeks after Hawkins' death, the song reached No. 1 for a four-week run.
The song, a heartbreak ballad, is from a man who keeps receiving phone calls for his ex. He can't bear the constant calls (not for him) that remind him of her so he has gotten a new phone number, which he will only reveal to her, that she can call to get back in touch with him (and presumably, resume the relationship). The song is the means that he uses to give out the new number.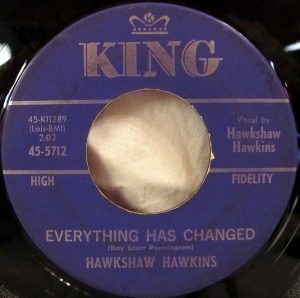 Hawkshaw Hawkins – Lonesome 7-7203
Single by Hawkshaw Hawkins
B-side «Everything Has Changed»
Released March 2, 1963
Recorded 1962
Genre Country
Length 2:45
Label King
Songwriter(s) Justin Tubb
Producer(s) Ray Pennington
Hawkshaw Hawkins – Lonesome 7-7203 Lyrics
Had our number changed today, although I hated to
But each time the phone would ring
They'ed want to speak to you
And it hurt's to tell them, your not here with me
May be now, oh telephone will let me be
It's not in the book now, so you'd better write it down
Just in case your love for me, should ever come around
You might want to call, and break the news to me
Just call lonesome 7-7203
I keep the telephone be side me all the time
Hoping you might want to call, and say
You've changed your mind
If you do then darling you know, where I'll be
I'm at lonesome 7-7203
Your the only one I'm giving our new number too
So now if the telephone should ring I'll know It's you
If you ever long for love that used to be
Just call lonesome 7-7203
Just call lonesome 7-7203