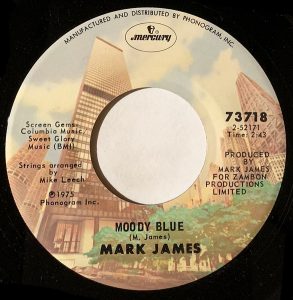 Elvis Presley – Moody Blue, is a song made famous by Elvis Presley. The song was written by Mark James who recorded the original version of the song, which reached #15 in South Africa during the summer of 1976. James also penned Elvis' «Suspicious Minds».
«Moody Blue» was Presley's last No. 1 hit in his lifetime, topping the Billboard magazine Hot Country Singles chart in February 1977. «Moody Blue» also peaked at number thirty-one on the Hot 100. RCA Records also issued an extremely limited quantity of the «Moody Blue» single in an experimental translucent blue vinyl pressing, with «She Thinks I Still Care» as the B-side. Six months after «Moody Blue» topped the chart, Presley was dead.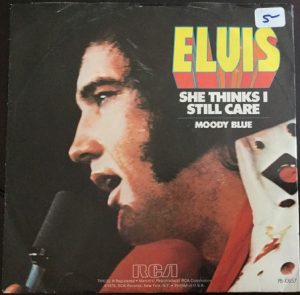 The song was recorded in February 1976 in the Jungle Room of Presley's Graceland home. The only time Elvis performed the song in its entirety was on February 21, 1977, at a concert in Charlotte, North Carolina. He had attempted to perform the song February 20 at the same venue but revealed to the crowd that he had completely forgotten the song; he returned on February 21, lead sheet in hand, and performed the song with his eyes glued to the lyrics. Both the February 20 false-start and the February 21 performance were recorded on soundboard in good sound quality and were released officially in 2007 by the Follow That Dream label; still photos of the February 21 performance also exist. The complete version was first released on bootleg by the Fort Baxter label in 1995.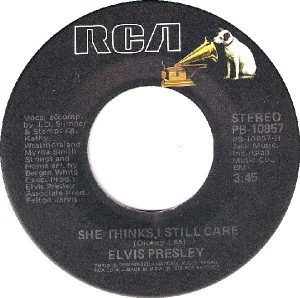 Elvis Presley – Moody Blue
From the album Moody Blue
B-side «She Thinks I Still Care»
Released November 29, 1976
Recorded February 4, 1976
Genre Country, Disco
Length 2:53
Label RCA Records
Songwriter(s) Mark James
Producer(s) Felton Jarvis




Elvis Presley – Moody Blue Lyrics
[Verse 1]
Well, it's hard to be a gambler
Betting' on the number
That changes every time
Well, you think you're gonna win
Think she's givin' in
A stranger's all you find
Yeah, it's hard to figure out
What she's all about
That she's a woman through and through
She's a complicated lady, so color my baby moody blue
[Chorus]
Oh, Moody blue
Tell me am I gettin' through
I keep hanging' on
Try to learn your song
But I never do
Oh, Moody blue
Tell me who I'm talking' to
You're like night and day
And it's hard to say
Which one is you
[Verse 2]
Well, when Monday comes she's Tuesday
When Tuesday comes she's Wednesday
Into another day again
Her personality unwinds
Just like a ball of twine
On a spool that never ends
Just when I think I know her well
Her emotions reveal
She's not the person that
I thought I knew
She's a complicated lady, so color my baby moody blue
[Chorus]