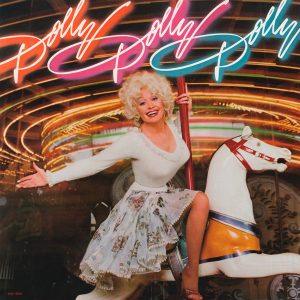 Dolly Parton – Starting Over Again, is a song recorded by American entertainer Dolly Parton. The song was written by Donna Summer and her husband Bruce Sudano. Parton's recording was performed as a slow tempo ballad, gradually building to a dramatic crescendo. It was released in March 1980 as the first single from her album Dolly, Dolly, Dolly. "Starting Over Again" made the U.S. pop top forty, peaking at number 36, and reached number 1 on the U.S. country charts on May 24, 1980, becoming Parton's 12th number one.
Donna Summer also recorded it as a non-album track, performing it live numerous time on television specials during the 1980s, including her own program, The Donna Summer Show.
The song tells the story of a middle-aged couple separating after 30 years of marriage. It was based upon the divorce of Sudano's parents.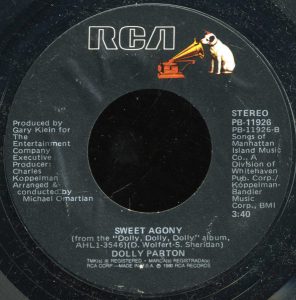 Dolly Parton – Starting Over Again
From the album Dolly, Dolly, Dolly
B-side "Sweet Agony"
Released February 25, 1980
Recorded December 1979
Genre Country
Length 3:58
Label RCA
Songwriter(s) Donna Summer, Bruce Sudano
Producer(s) Gary Klein
Dolly Parton – Starting Over Again lyrics
[Verse 1]
Momma moved out, Daddy sold the house
They split up the money and went on their way
And all the king's horses and all the king's men
Couldn't put Mommy and Daddy back together again
[Chorus]
Starting over again
Where should they begin?
Because they've never been out on their own
Starting over again
Where do you begin?
When your dreams are all shattered
And the kids are all grown
And the whole world cries
[Verse 2]
Got an apartment, she moved in with her sisters
He's scheming big deals with one of his friends
While she sits at home just sorting out pieces
Of left over memories from thirty odd years
[Chorus]
Starting over again
Where do you begin
You've never been out on your own
Starting over again
Never any end
[Verse 3]
What will the neighbors say?
They're talking talk
It's small town news
Facing fifty years old
Breaking up a happy home
And this far down the road
You find yourself alone
Two fools
[Chorus]
Starting over again
Now where do you begin
When you've never been out on your own
Starting over again
Never any end
When your dreams are all shattered
And the kids are all grown
And all the king's horses and all the king's men
Could never put Mommy and Daddy back together
Back together, again