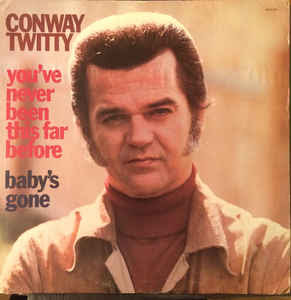 "Baby's Gone", a song written by Conway Twitty and Billy Parks, was recorded by Conway Twitty for the MCA label on December 19, 1972, at Bradley's Barn, Bender's Ferry Road, Mount Juliet, TN. The song was released in March 1973, produced by Owen Bradley. On June 2, 1973, it reached number # 2 on the US Hot Country Songs charts, and spent a total of 14 weeks on the charts. On the Canadian RPM Country Tracks charts, it also reached number # 2.




The song was included on Conway's twenty-sixth studio album, You've Never Been This Far Before (MCA 1973), the album was released in September 1973, reaching # 1 on the US Top Country Albums charts, on October 6, 1973, and remaining a total of 45 weeks on the charts. The album was certified gold in the USA.
Versions:
Jeanne Pruett 1973 (MCA)
Cal Smith 1973 (MCA)
Conway Twitty – Baby's Gone lyrics
My hand is trembling as the key unlocks the door
My legs are shaky as I walk across the floor
My voice weakens as I call out I'm home
Do my eyes deceive me or is my baby gone?
Baby's gone she couldn't stand to tell me face to face
And things just ain't the way they used to be
Around this place
Her perfume lingers where she once lay her head
And I can almost taste the teardrops that she shed
As she searched her mind and tried to find
Just where our love went wrong
But it's ended and it's over, and baby's gone.
Baby's gone she couldn't stand to tell me face to face
And things just ain't the way they used to be
Around this place
Her perfume lingers where she once lay her head
And I can almost taste the teardrops that she shed
As she searched her mind and tried to find
Just where it all went wrong
But it's ended and it's over, and baby's gone…