"Honey", also known as "Honey (I Miss You)", is a song written by Bobby Russell. He first produced it with former Kingston Trio member Bob Shane. Then he gave it to American singer Bobby Goldsboro, who recorded it for his 1968 album of the same name, originally titled Pledge of Love.
The song's narrator mourns his deceased wife, beginning with him looking at a tree in their garden, remembering how "it was just a twig" on the day she planted it. This single was a US No. 1 the week of April 7, 1968.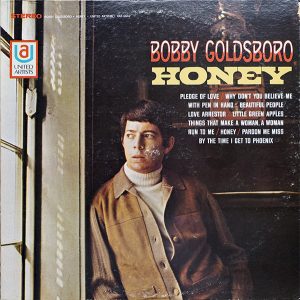 "Honey" was released as a single in the U.S. in 1968 and spent five weeks at No. 1 the Billboard Hot 100 Singles Chart (the 200th song to reach No. 1 on that chart), from April 7 to May 11, and three weeks atop Billboard's Hot Country Singles chart. It was preceded on the Billboard Hot 100 by "(Sittin' on) the Dock of the Bay" by Otis Redding and was followed by Archie Bell & the Drells' "Tighten Up". It was Goldsboro's only No. 1 hit on the Pop Singles and Country Singles charts and it was his first song to top the Adult Contemporary chart. Billboard ranked the record as the No. 3 song for 1968.




"Honey" reached No. 2 on the UK Singles Chart and a re-release of the single in the United Kingdom in 1975 (see 1975 in music) reached No. 2 again. In Australia, it spent four weeks at No. 1 on the ARIA Charts, replacing The Beatles' "Lady Madonna", and was the No. 6 song of 1968.
An early version of "Honey" had been recorded by South African singer Peter Lotis in 1962. It was released as a single in 1968, becoming a Top 10 South African hit.
Bobby Goldsboro – Honey lyrics
See the tree, how big it's grown
But friend it hasn't been too long
It wasn't big
I laughed at her and she got mad
The first day that she planted it, was just a twig
Then the first snow came
And she ran out to brush the snow away
So it wouldn't die
Came runnin' in all excited
Slipped and almost hurt herself
And I laughed till I cried
She was always young at heart
Kinda dumb and kinda smart and I loved her so
And I surprised her with a puppy
Kept me up all Christmas Eve two years ago
And it would sure embarrass her
When I came in from workin' late
Cause I would know
That she'd been sittin' there and cryin'
Over some sad and silly late, late show
And honey, I miss you
And I'm bein' good
And I'd love to be with you
If only I could