Andy Hedges – Roll On Cowboys (2-CD set)
Andy Hedges – Roll On Cowboys (2-CD set), In truth this one should be captioned "Andy Hedges & Friends." Get a load of his "friends," friends!! Ramblin' Jack Elliott, Dom Flemons, Pipp Gillette, Brenn Hill, Waddie Mitchell, Michael Martin Murphey, Brigid Reedy, Randy Rieman, Tom Russell, Rod Taylor and Andy Wilkinson!! It's like a dream Elko Who's Who!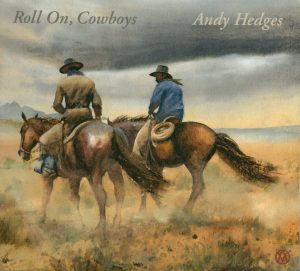 Like his late friend Don Edwards, Andy Hedges is a preservationist when it comes to origins of Western Music and Cowboy culture. His releases are important and noteworthy for their quality. But this one may go all the way to "Landmark!" Drawn from episodes of Hedges' increasingly popular podcast "Cowboy Crossroads," the people guesting here share his zeal for keeping the past alive and relevant. An exceptional, annotated booklet is included that not only offers histories of these songs, but also histories of some of the specific instruments used to render them! Finally we get to hear an expanded treatment of "Dodgin' Joe," the song fragment that first sent Jack Thorp on his collecting quest! We experience vintage treatments of the real stuff, about as "campfire" as it gets. Words fail!!
Beyond very highly recommended, this double CD set is a must-own!! Twenty-two amazing tracks.
– by Rick Huff
Andy Hedges – Roll On Cowboys
Track List
CD1
1 – Roll On, Cowboys (feat. Brenn Hill)
2 – Dodgin' Joe (feat. Dom Flemons)
3 – Little Joe the Wrangler (feat. Corb Lund)
4 – Long Summer Day (feat. Pipp Gillette)
5 – Root Hog or Die (feat. Tom Russell)
6 – Philadelphia Lawyer (feat. Ramblin' Jack Elliott)
7 – Railroad Bill (feat. Ramblin' Jack Elliott & Dom Flemons)
8 – Desert Sands (feat. Brigid Reedy)
9 – Ridin'/Commutin' (feat. Waddie Mitchell)
10 – Saddlin' Up Time
11 – Palo Duro Farewell (feat. Andy Wilkinson)
CD2
1 – Here's Lookin' at You (feat. Rod Taylor)
2 – When I Was a Cowboy (feat. Dom Flemons)
3 – Punchin' the Dough (feat. Pipp Gillette)
4 – The Broncho
5 – Pitch, You Wild Outlaw, Pitch (feat. Corb Lund)
6 – Makin' Merry with John Perry on the Ol' Bar Cross (feat. Ramblin' Jack Elliott)
7 – Rounded Up in Glory (feat. Michael Martin Murphey)
8 – Old Dolores (feat. Tom Russell)
9 – Passing of the Trail/Cowboy Blues (feat. Randy Rieman)
10 – The Old Cowman (feat. Brenn Hill)
11 – Goodbye Old Paint (feat. Andy Wilkinson)