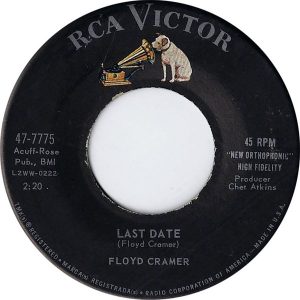 Conway Twitty – (Lost Her Love) On Our Last Date. "Last Date" is a 1960 instrumental written and performed by Floyd Cramer. It exemplifies the "slip note" style of piano playing that Cramer made popular. It peaked at number 11 on the country chart and at number two on the Hot 100 behind "Are You Lonesome Tonight?" by Elvis Presley. Cramer's recording inspired a number of successful cover versions, including a vocal adaptation by Conway Twitty.
In 1972 Conway Twitty recorded the song, with new lyrics written by him, and was known as «(Lost Her Love) On Our Last Date» and was his seventh solo number one on the US Country Chart. It spent one week at number one and a total of 13 weeks on the chart.
In 1982 Emmylou Harris recorded the Conway Twitty version as «(Lost His Love) On Our Last Date» which was her fifth number one on the country chart as a solo artist.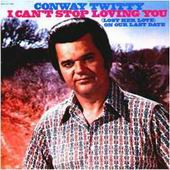 Conway Twitty – (Lost Her Love) On Our Last Date
From the album I Can't Stop Loving You / (Lost Her Love) On Our Last Date
B-side "I'll Never Make It Home Tonight"
Released 1972
Genre Country
Length 3:24
Label Decca – 32945
Songwriter(s) Conway Twitty, Floyd Kramer
(Lost Her Love) On Our Last Date Lyrics
It's over our love affair
Too late now I find I care
His sweet love no more I'll share
Now he's gone I'm alone
I was wrong should have known
Took me home on our last date
I search for a single way
To tell him what I had to say
I kissed him watched him walk away
Set him free foolishly destiny misery
Tragedy on our last date
Took the ring from my trembling fingers
Brushed a tear from my baby's eye
Walked away didn't know that
I'd soon miss him so
Guess I was too young to realize
So blind I couldn't see
How much he really meant to me
And that soon he would always be
On my mind in my heart I was blind from the start
Lost his love on our last date