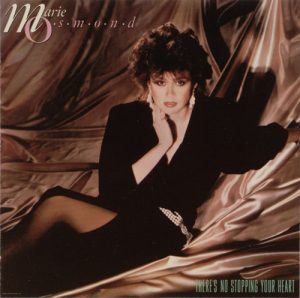 Dan Seals and Marie Osmond – Meet Me in Montana, is a song recorded by American country music artists Dan Seals and Marie Osmond. It was released in July 1985 as the lead-off single from Seals' album Won't Be Blue Anymore, and the second single from Osmond's 1985 album There's No Stopping Your Heart. The song was written by Paul Davis, who would later have a duet success of his own with Osmond, «You're Still New to Me.»
«Meet Me in Montana» reached No. 1 on the Billboard magazine Hot Country Singles chart for one week in October 1985. The single was the first chart-topping hit for Seals, and Osmond's second No. 1 hit, her first to peak at the top of the chart since 1973's Paper Roses.
When performed live in concert since Seals's death in 2009, Osmond's brother Merrill Osmond usually serves as the duet partner.
Dan Seals and Marie Osmond – Meet Me in Montana
B-side «What Do Lonely People Do»
Released July 1985
Genre Country
Length 3:54
Label Capitol/Curb
Songwriter(s) Paul Davis
Producer(s) Kyle Lehning Paul Worley
Dan Seals and Marie Osmond – Meet Me in Montana Lyrics
[Verse 1: Dan Seals]
Wrote my whole life down in a notebook
Songs about you and me
I've been singing to every soul in Tennessee
But nobody seems to listen
And no one ever smiles the way that you do
So I guess you'll never hear me on the radio
And I'd give up this crazy dream of mine
To hold you once more
[Chorus: Marie Osmond & Dan Seals]
Won't you meet me in Montana?
I want to see the mountains in your eyes
Oh, I've had all of this life I can handle
Meet me underneath that big Montana sky
[Verse 2: Marie Osmond & Dan Seals]
I left home for Hollywood looking for a part to play
Well, you always said I had such a pretty face
But I guess I'm not that pretty
'Cause no one looks at me the way that you do
Well, you'll always be a movie star to me
And darlin', now I guess it's time that I let go of that dream
[Chorus: Marie Osmond & Dan Seals]
Won't you meet me in Montana?
I want to see the mountains in your eyes
Oh, I've had all of this life I can handle
Meet me underneath that big Montana sky
[Bridge: Marie Osmond & Dan Seals]
Well, we're stuck here in these hills that they call mountains
But darlin', back home in your arms is right where I want to be
[Chorus: Marie Osmond & Dan Seals]
Won't you meet me in Montana?
I want to see the mountains in your eyes
Oh, I've had all of this life I can handle
Meet me underneath that big Montana sky
In Montana
I want to see the mountains in your eyes
Oh, I've had all of this life I can handle
Meet me underneath that big Montana sky
In Montana