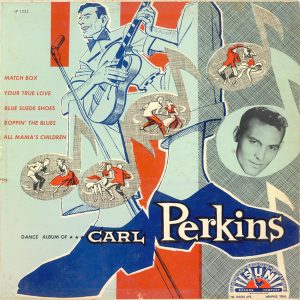 "Matchbox" is a song written and recorded by Carl Perkins and released in 1957. Blind Lemon Jefferson wrote and recorded a song entitled "Match Box Blues" in 1927, which is musically different but which contains some lyric phrases in common.
"Matchbox" was recorded as a rockabilly song by Carl Perkins in December 1956 and by fellow Sun Records performer, Jerry Lee Lewis – who played piano on the original track – in 1958. The Carl Perkins tune shares some lyrics with 1920s blues songs by Ma Rainey and Blind Lemon Jefferson but the music is different. Sam Phillips and Sun Records released the Carl Perkins version as the B-side to "Your True Love". Although only the A-side became a record chart hit in 1957, "Matchbox" is one of Perkins' best-known recordings and a variety of musicians have recorded the tune.



From the album Dance Album of Carl Perkins
A-side "Your True Love"
Released 1957
Recorded December 4, 1956
Studio Memphis Recording Service, Memphis, Tennessee
Genre Rockabilly
Length 2:10
Label Sun
Songwriter(s) Carl Perkins
Producer(s) Sam Phillips
Carl Perkins – Matchbox Lyrics
I said I'm sitting here watching
Matchbox holdin' my clothes
I said I'm sitting here wondering
Matchbox holdin' my clothes
I ain't got no matches
But I sure got a long way to go
I'm an old poor boy
I'm a long way from home
I'm an old poor boy
And I'm a long way from home
I've never been happy
Cause everything I ever did was wrong
Well, if you don't want my peaches
Honey please don't shake my tree
If you don't want any of those peaches
Honey, please don't mess around my tree
I've got news for you baby
Leave me here in misery, all right!
Well let me be your little dog
Till your big dog comes
Let me be your little dog
Till your big dog comes
And when your big dog gets here
Watch how your puppy dog runs
Well I said I'm sitting here watching
Matchbox hole in my clothes
I said I'm sitting here wondering
Matchbox hole in my clothes
I ain't got no matches
But I sure got a long way to go