Bobby Marquez – The Cowboy Way, Somehow…somewhere along some line…somebody decided that the division between 10 and 9 tracks denotes "album" over "EP." So, an "EP" this is, I guess. And, for our audiences, hopefully no one will think this is a CD called "Bobby Marquez" done by the band The Cowboy Way!!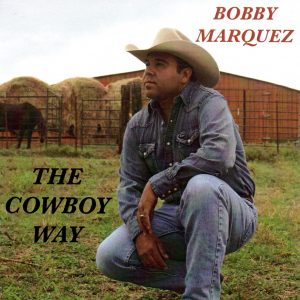 An award-winning and nominated singer, Bobby Marquez is vocally a bit reminiscent of the late Charley Pride. But he also brings considerable songwriting chops to the table, his works having been picked up by the likes of Alan Jackson, Ty Herndon, George Strait, Rhonda Vincent and Johnny Rodriguez (who appears on one of the songs in this collection).
Picks include the title track "The Cowboy Way" penned by Marquez and Jennifer Herron (daughter of rodeo cowboy Wayne Herron, to whom the collection is dedicated) and the pair's "What's The Deal" which uses poker terminology to get another story told. The Country track "Ridin' My Thumb To Mexico" is the one featuring Johnny Rodriguez produced by Rex Allen Jr., who also provides acoustic guitar on "The Cowboy Way." Marquez sang his original song "Speak Love" as part of the IWMA 2022's Friday Night Opry, and it was well received.
It will be interesting to keep an eye on Bobby Marquez' progress in both the Texas and Nashville music scenes. Nine tracks, recommended.
CD: (available through bobbymarquez.com)
– by Rick Huff
Bobby Marquez – The Cowboy Way
1 – Honky Tonk
2 – Trapped by Your Memory
3 – The Cowboy Way
4 – What's the Deal
5 – Riding My Thumb to Mexico(Duet W / Johnny Rodriguez)
6 – For Awhile(Duet W / Rhonda Vincent)
7 – An Empty Glass
8 – That's What Loving You Means
9 – Speak Love