SWING POST OFFICIAL for Swinging Country December 17 2022 @ KSSLFM.COM 10:AM – 12:PM CST USA TUNE IN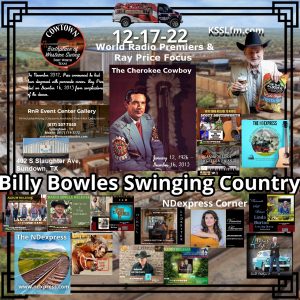 Starting with 19 of the Many Songs that were World Radio Premiered on Swinging Country in 2022 Then we remember the Music and Career of Ray Price 9 Years & 1 Day after his death A Must for Ray Price Fans and who isn't? Artist Included on this episode Include Steve Markwardt, Lance Shaw & 419 Swing, Jenni Lyn Rumer, Linda Burton, Lonnie Spiker, Dennis Paul Ledbetter, Vanessa Bourne, Brad Howard, Keith Phillips, Scott Southworth, Bobby Mackey & Anita Mackey Schwarber, John White.
Remembering Ray Price and Certain Periods & Styles with Ten Songs Included. And Closing out with Beautiful Instrumental Christmas Music from Dickey Overby & Bobby Flores.