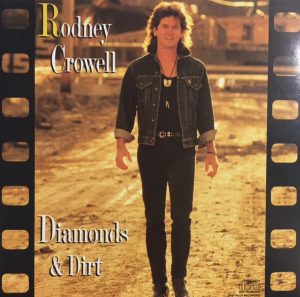 "It's Such a Small World" is a song written by American country music artist Rodney Crowell, and recorded by Crowell and then-wife Rosanne Cash as a duet. It was released in January 1988 as the lead-off single from Crowell's Diamonds & Dirt album, which charted five No. 1 hits in between 1988 and 1989.
The song debuted at number 68 on the chart dated January 23, 1988 and charted for 18 weeks on the Billboard Hot Country Singles chart, reaching number 1 on the chart dated the week of April 30.
The song was accompanied by a music video, directed by Edd Griles, which featured a few seconds of film taken on Cash and Crowell's actual honeymoon. The video follows the storyline of the song, except that after the man (played by Crowell) leaves the next morning, he changes his mind and returns to the woman (Cash).




From the album Diamonds & Dirt
B-side "Crazy Baby"
Released January 1988
Genre Country
Length 3:21
Label Columbia Nashville
Songwriter(s) Rodney Crowell
Producer(s) Tony Brown, Rodney Crowell
Rosanne Cash And Rodney Crowell – It's Such A Small World Lyrics
Fancy meeting you here, tonight
It's such a small world, New York ain't my town
I don't come around, but once in a while
This is such a surprise to see you
Girl, your looking so good; it's been a long time
Since you've crossed my mind
It's such a small world
Just one night on the town,
I came looking around for something to do
Just a change of my plans on leaving,
And I stay around and I run into you
Which just goes to prove it's such a small world
It's such a small world
I've lived alone for awhile
It's such a small world
It feels like I've gone out of style
You and me will always be
Just looking for something that's already happened
Years go by but you and I don't have to look beyond today
Maybe just for tonight
We can turn out the light
Lay your heart on the line
Let go of your mind
You know just what to say
You know just what to do
You still look like the day when I first met you
I'll be gone once again come morning
Like I've always done
But to see you tonight
Makes everything right, it's such a small world
Hey, right here you stand as if it was planned
It's such a small world