Phoebe White – UnXpected, The speed yodeling phenom Phoebe White recorded this CD at the tender age of twelve! Recently turned thirteen, she proceeded to set the IWMA 2022 audience on its collective ear in Albuquerque. She has attracted obviously outstanding musical support for her project (Riders In The Sky, The McLain Family and Michael Jonathon).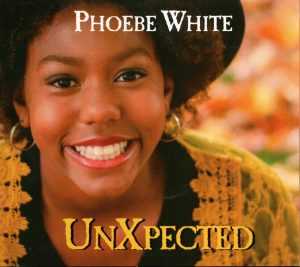 Blessed with an exceptionally strong voice for her age, White stands ready to follow in the footsteps of similarly bestowed "kids" like Tanya Tucker and Leann Rimes. Hopefully she will be mentored by some of our outstanding interpreters of Western songs to help build on her song selling talents. It's only natural that she currently tends to handle non-yodel songs with full yodel force, but the yodel tracks she offers are solid and very worth the price of admission. These include the specially rechristened "Phoebe The Yodeling Cowgirl," "Yodeling Blues (Down In The Valley)," "I Want To Be A Cowboys Sweetheart" and "Whatever Happened To The Yodeling Cowgirls?"
Overall, Phoebe White may be able to be listed as Western's latest gift to the world's airwaves (and ear waves)!
Ten tracks, highly recommended.
CD: (available through singphoebesing.com)
– by Rick Huff
Phoebe White – UnXpected
KG & Phoebe White – UnXpected
Track List
1 – Phoebe the Yodeling Cowgirl (feat. Riders In the Sky)
2 – Yodeling Blues (Down in the Valley) [feat. McLain Family Band]
3 – Boo Hoo Blues (feat. McLain Family Band)
4 – Over the Mountain (feat. Michael Johnathon & McLain Family Band)
5 – Whatever Happened to the Yodeling Cowgirls (feat. Riders In the Sky)
6 – Prairie Woman (feat. McLain Family Band)
7 – Cowboy Hat (feat. McLain Family Band)
8 – I Want to Be a Cowboy's Sweetheart (feat. Riders In the Sky)
9 – If I Could Only Learn to Yodel
10 – Colorado Trail (feat. McLain Family Band)