Earl Thomas Conley – Don't Make It Easy for Me
Do you want to take a nostalgic journey through the captivating world of country music? Look no further than Earl Thomas Conley's timeless hit, «Don't Make It Easy for Me.» Released on January 2, 1984, this song has left an indelible mark on the hearts of music enthusiasts worldwide.
The Making of a Masterpiece
«Earl Thomas Conley – Don't Make It Easy for Me» was written by Earl Thomas Conley and Randy Scruggs. The song was recorded in Nashville and produced by the legendary record producer, Nelson Larkin. It became a part of Conley's album titled «Don't Make It Easy for Me.» This album, released in 1983, showcased Conley's exceptional vocal talent and established him as a prominent figure in the country music scene.
Chart-Topping Success
Upon its release, «Don't Make It Easy for Me» captured the hearts of country music fans across the nation. It quickly climbed the charts, reaching number one on the Billboard Hot Country Singles chart. This achievement solidified Earl Thomas Conley's status as a prominent artist and propelled him into the mainstream spotlight.
Unveiling the Song's Essence
The essence of «Don't Make It Easy for Me» lies in its heartfelt lyrics and Conley's soulful delivery. The song explores the complexities of relationships and the challenges that arise when love is put to the test. Conley's distinct voice beautifully conveys the emotions of longing, vulnerability, and perseverance, allowing listeners to connect with the profound message embedded within the song.
Captivating the Audience
From the very first note, «Don't Make It Easy for Me» captures the listener's attention and holds it until the final chord. The melody's subtle nuances, combined with Conley's heartfelt storytelling, create a captivating experience that transcends time. The song's ability to evoke emotions and resonate with listeners has made it an enduring favorite within the country music community.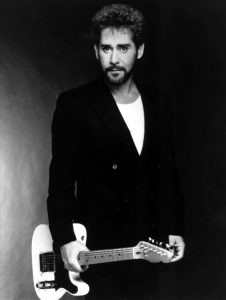 Embracing Earl Thomas Conley's Legacy
Earl Thomas Conley's contribution to country music is immeasurable. His artistry and authentic storytelling continue to inspire new generations of musicians. «Don't Make It Easy for Me» stands as a testament to Conley's remarkable talent and the profound impact he had on the genre.
As we immerse ourselves in the enchanting world of country music, let «Earl Thomas Conley – Don't Make It Easy for Me» serve as a reminder of the power of music to touch our souls and transcend boundaries.
Remember, for more engaging articles and captivating insights into the world of country music, stay tuned to our blog. Let the magic of Earl Thomas Conley's music be your guide as we journey through the rich tapestry of country music history.
Earl Thomas Conley – Don't Make It Easy for Me Lyrics
[Verse 1]
You're on my mind, I'm in the dark
You're takin' your time, I'm fallin' apart
Girl, you hold my mind in your hands & you know it
I'll get it right if you'll give me the chance
To come closer
I'll give you my heart if that's what you're after
I'll give you my love, and that's all that matters
Think it over
Yeah that's all right with me
If you wanna play hard to please
Don't make it easy for me
Down on my knees, take a look at me
I'm easy to please; why can't you be?
Girl, you hold my mind in your hands & you know it
I'll get it right if you'll give me the chance
To come closer
I'll give you my heart if that's what you're after
I'll give you my love, and that's all that matters
Think it over
Yeah that's all right with me
If you wanna play hard to please
Don't make it easy for me
Girl, that's all right with me
If you wanna play hard to please
Don't make it easy for me