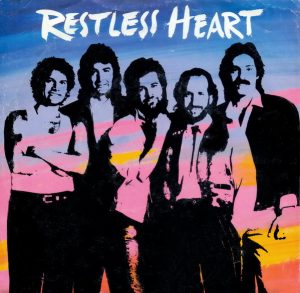 Restless Heart – Wheels, is a song written by Dave Loggins, and originally recorded by American country music duo The Bellamy Brothers for their 1985 album Howard & David.
It was later recorded by American country music group Restless Heart and released in October 1987 as the fourth and final single from the album Wheels. The song was Restless Heart's fourth number-one country single. The single went to number one for one week and spent 23 weeks on the chart.
The B-side, «New York (Hold Her Tight)», peaked at number 23 on the Adult Contemporary chart.




Restless Heart – Wheels
From the album Wheels
B-side «New York (Hold Her Tight)»
Released October 26, 1987
Genre Country rock
Length 3:48
Label RCA Nashville
Songwriter(s) Dave Loggins
Producer(s) Tim DuBois Scott Hendricks Restless Heart
Restless Heart – Wheels Lyrics
(Verse 1)
Some people are born to live alone
And go about life that way
Their home is a long stretch
Of blacktop and everyday
Is just another day
They like movin' and stayin on the run
And tryin' to make the world stand still
White lines and city limit signs
And life is like an automobile's
Rollin' down the highway what a fine time
That's the only way to feel
(Chorus)
Wheels
Stay under me
Stay under me
Wheels
Stay under me
Stay under me
(Verse 2)
It's a freedom that we all wanna know
It's an obsession to some
To keep the world in your rearview mirror
While you try to run down the sun
It's the knowin' when you
Get to where you're goin'
You're never there against your will
White lines and city limit signs
And life is like an automobile
Rollin' down the highway what a fine time
That's the only way to feel
(Chorus)
Wheels
Stay under me
Stay under me
Wheels
Stay under me
Stay under me
Wheels
I love to feel you turn
I love to feel you under me
(Break)
Wheels turn around
Round round like geronomo
(Bridge)
It's a code for livin on the road
Try to make the world stand still
Rollin' down the highway
Rollin' down the highway
Ooohhh
(Chorus)
Wheels
Stay under me
Stay under me
Wheels
Stay under me
Stay under me
Wheels
I love to feel you turn
I love to feel you under me
Wheels
Stay under me
Stay under me