Sonny James – Young Love, country music has always had a way of capturing the essence of young love, and no song does it better than "Young Love" by Sonny James. Released in 1956, this timeless classic has become a beloved favorite of country fans for generations.
Sonny James, also known as the "Southern Gentleman," was a country music icon known for his smooth voice and romantic ballads. He recorded "Young Love" early in his career, and it quickly became a hit, reaching the top of the charts and staying there for many weeks.
The song tells the story of a young couple who have fallen in love for the first time. They experience all the ups and downs of young love, from the joy and excitement of their first kiss to the heartache of a breakup. James' warm and tender vocals perfectly capture the bittersweet emotions of the lyrics, making the listener feel like they are reliving their own first love.
But what makes "Young Love" truly special is its universal appeal. Although it was written in the 1950s, the song's themes of young love and heartbreak are timeless and resonate with listeners of all ages. It has been covered by countless artists over the years, including Connie Francis, Donny Osmond, and The Judds, among others.
In addition to its enduring popularity, "Young Love" has also had a lasting impact on country music. It helped establish James as a major star in the genre, and its success paved the way for other country artists to incorporate pop influences into their music.
In conclusion, "Young Love" is a classic country song that continues to captivate audiences with its heartfelt lyrics and timeless melodies. It is a shining example of the power of country music to tell stories that touch the heart and soul, and it will always hold a special place in the hearts of country fans everywhere.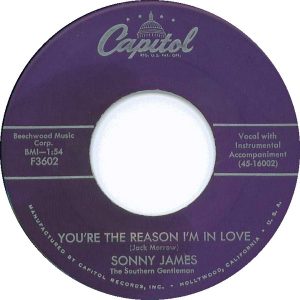 Sonny James – Young Love
From the album Young Love Dot 1962
B-side " You're The Reason I'm In Love"
Formato: Vinilo, 7″, 45 RPM
Released 1956
Genre Country
Length 2:29
Label Capitol Records
Songwriter(s) Carole Joyner, Ric Cartey




Sonny James – Young Love Lyrics
[Verse 1]
They say for every boy and girl
There's just one love in this whole world
And I know I've found mine
The heavenly touch of your embrace
Tells me no one could take your place
Ever in my heart
[Chorus]
Young love, first love (You're my love, you're my love)
Filled with true devotion
Young love, our love (You're my love, you're my love)
We share with deep emotion
[Verse 2]
Just one kiss from your sweet lips
Will tell me that your love is real
And I can feel that it's true
We will vow to one another
There will never be another
Love for you or for me
[Chorus]
Young love, first love (You're my love, you're my love)
Filled with true devotion
Young love, our love (You're my love, you're my love)
We share with deep emotion