Johnny Nicholas presents Moon & The Stars – [a tribute to Moon Mullican]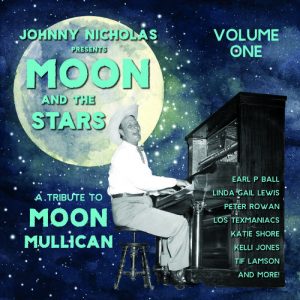 "Moon" Mullican was a seminal influence on more music genres than just about anyone you could name. Jerry Lee Lewis freely admitted to being shaped by him. The popular Honky Tonk Swing and Western Swingers of the 50s and 60s onward owe him a serious debt of gratitude. Even Hot Country artists bear Mullican's stamp more than they may realize. Mullican described his style being enough to "bounce the goddam beer bottles off the tables!" Colorful, and so true.
Acknowledging it is the veteran performer Johnny Nicholas. He decided to assemble living luminaries of the art form in tribute to the Moon man. In two packed CDs Nicholas and company have put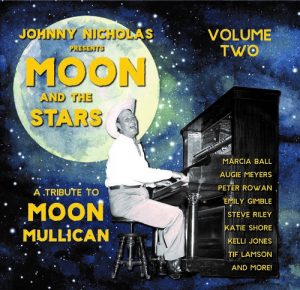 together fresh recordings of the most famous hits and some lesser-known discoveries unearthed from Mullican's deep catalog. Fans should experience a good feeling of wistful nostalgia at hearing these songs again, or it may send them running in search of the originals!! All of it is valid.
Many of these folks have been at it for decades. Some voices reflect that time more than others do, but there is a lot to like in this pair of discs. Collectors specifically seeking the Swing tempo should be advised there is a bit more of it in Vol. #1 than Vol #2. Ten tracks each disc, both discs recommended.
by Rick Huff
Johnny Nicholas presents Moon & The Stars – [a tribute to Moon Mullican]
Johnny Nicholas presents Moon & The Stars – [a tribute to Moon Mullican]
Track List CD1
1 – Good Deal Lucille (Earl P. Ball)
2– When Love Dies (Kelli Jones, Tif Lamson)
3 – Moonshine Polka (Los Texmaniacs)
4 – I'm Waiting For Ships that Never Come In (Peter Rowan)
5 – Big Big City (Johnny Nicholas)
6 – I'll Sail My Ship Alone (Linda Gail Lewis)
7 – You Don't Have to be a Baby to Cry (Johnny Nicholas)
8 – There's a Little Bit of Heaven (Katie Shore)
9 – So Long (Kelli Jones)
10 – Make Friends (Johnny Nicholas)
Track List CD2
1 – Good Times Gonna Roll Again (Marcia Ball)
2 – Leaving You with a Worried Mind (Emily Gimble)
3 – What Have I Done (Katie Shore)
4 – I Was Sorta Wonderin (Johnny Nicholas, Tif Lamson)
5 – All I Need is You (Johnny Nicholas)
6 – Pipeliner Blues (Augie Meyers)
7 – Downstream (Peter Rowan)
8 – Seven Nights to Rock (Steve Riley)
9 – Bottom of the Glass (Tif Lamson)
10 – Don't Ever Take My Picture Down (Johnny Nicholas)