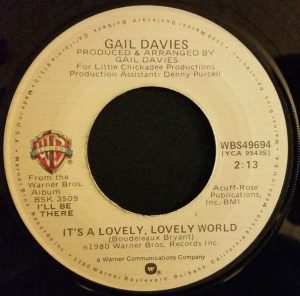 Carl Smith – It's a Lovely Lovely World, is a song written by Boudleaux Bryant that was originally recorded by American country artist Carl Smith. It has since been recorded by numerous musical artists, including Gail Davies, who revived the song as a single in 1981.
Was originally composed by Boudleaux Bryant who wrote numerous country recordings during the 1950s and 1960s, including "Bye Bye Love" and "Rocky Top". The song was recorded by Carl Smith on February 5, 1952 in Nashville, Tennessee, United States at the Castle Recording Studio. Also included on the session was Smith's future single "Are You Teasing Me". The recording session was produced by Don Law. "It's a Lovely, Lovely World" was released as the B-side to Smith's single "Are You Teasing Me" in March 1952. While the A-side reached number one on the Billboard Magazine Most Played C&W in Juke Boxes list, "It's a Lovely, Lovely World" peaked at number five on the same chart. Originally, both songs were not issued onto official studio albums.
Was recorded during the peak of Carl Smith's career as a country music artist. During the early 1950s, along with this song, Smith had thirty top-ten hits amidst the Billboard country singles chart. The song was recorded in Smith's signature Honky Tonk musical style.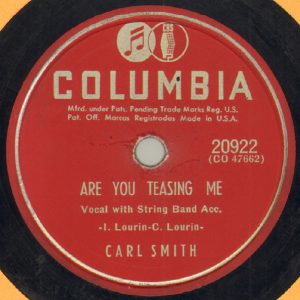 Carl Smith – It's a Lovely Lovely World
Single by Carl Smith
A-side "Are You Teasing Me"
Released March 1952
Recorded February 5, 1952
Nashville, Tennessee, US
Genre Country
Label Columbia
Songwriter(s) Boudleaux Bryant
Producer(s) Don Law




Carl Smith – It's a Lovely Lovely World Lyrics
Mother nature's opened up the door to lots of things I never saw before
It's a lovely lovely world since I met you
Never did see everything looking so nice I just learned the meaning of paradise
It's a lovely lovely world since I met you
Now the sun shines brighter and the sky'is a little bit bluer
And my little old rattle trap Ford coupe even seems a little bit newer
Well my guitar stays a little better in tune
The stars snine brighter there's honey on the moon
It's a lovely lovely world since I met you
[ steel – guitar ]
Ever since you cuddled in my embrace I've had more fate in the human race
It's a lovely lovely world since I met you
Now I don't mind working or slaving all day
Cause I know tonight there'll be love to pay
It's a lovely lovely world since I met you
Everything seems nutural and right since the day I found you
Everything looks rosy and shiny bright in the dreams I'm building around you
Used to think that miracles would never come true
But now I'm happy cause I know they do
It's a lovely lovely world since I met you