«I've Already Loved You in My Mind» is a song that is written and recorded by American country music artist Conway Twitty. It was released in July 1977 as the first single and title track from the album I've Already Loved You in My Mind. The song was Twitty's 20th number-one country hit in the United States. The single stayed at number one for a single week and spent a total of 11 weeks on the country chart.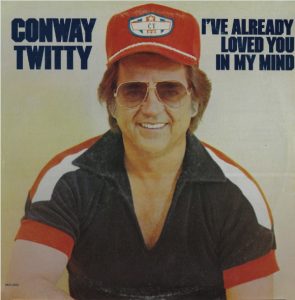 From the album I've Already Loved You in My Mind
B-side «I've Changed My Mind»
Released July 1977
Recorded May 2, 1977
Bradley's Barn, Mt. Juliet, Tennessee
Genre Country
Length 2:47
Label MCA
Songwriter(s) Conway Twitty
Producer(s) Owen Bradley
Conway Twitty – I've Already Loved You In My Mind Lyrics
I thought I've never seen a girl like her in here before
And I could see her watching me as I walk across the floor
I asked her if she'd like to dance
When the band starts up again
She said I never danced with strangers
I don't even know your name.
I said we're not exactly strangers, you and I
My thoughts were running wild and free
As I watched you tonight
Just think about it and you'll find
We're not exactly strangers
I've already loved you in my mind.
The band started playing a slow moving song
She got up and easily moved into my arms
I kept on saying the things a girl likes to hear
And when the dance was over she whispered in my ear.
She said we're not exactly strangers, you and I
My thoughts were running wild and free
While you held me tight
I thought about it and I find
We're not exactly strangers
I've already loved you in my mind…