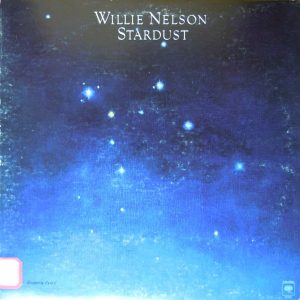 Willie Nelson – Blue Skies, is a popular song, written by Irving Berlin in 1926. Is one of many popular songs whose lyrics use a "bluebird of happiness" as a symbol of cheer: "Bluebirds singing a song/Nothing but bluebirds all day long." The sunny optimism of the lyrics are undercut by the minor key giving the words an ironic feeling.
In 1958, Ella Fitzgerald crossed genres putting her own distinctive scat jazz stylings on "Blue Skies" for her double-LP album, Ella Fitzgerald Sings the Irving Berlin Song Book, that year's installment in her famous eight-album Song Book series. The track was also included in that year's Ella compilation album, Get Happy!.
Twenty years after Fitzergald's cover, in 1978, Willie Nelson released another version of "Blue Skies" which became a #1 country music hit. This version hearkened back to 1939 when it was a major western swing and country standard, performed by Moon Mullican.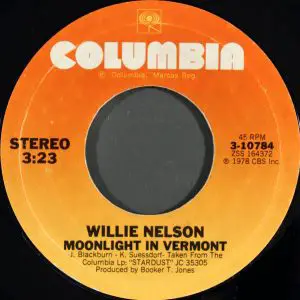 Willie Nelson – Blue Skies
From the album Stardust
B-side "Moonlight in Vermont"
Released July 1978 (U.S.)
Length 3:32
Label Columbia
Songwriter(s) Irving Berlin
Producer(s) Booker T. Jones




Willie Nelson – Blue Skies Lyrics
[Chorus]
Blue skies smiling at me
Nothing but blue skies do I see
Blue birds singing a song
Nothing but blue skies from now on
[Verse]
I never saw the sun shining so bright
Never saw things going so right
Noticing the days hurrying by
When you're in love, my how they fly by
Blue days, all of them gone
Nothing but blue skies from now on
[Instrumental Bridge]
[Chorus]
Blue skies smiling at me
Nothing but blue skies do I see
Blue days, all of them gone
Nothing but blue skies from now on
Blue skies smiling at me
Nothing but blue skies do I see
Blue days, all of them gone
Nothing but blue skies from now on
Blue skies smiling at me
Nothing but blue skies do I see
Blue days, all of them gone
Nothing but blue skies from now on