Swinging Country March 04,Howdy Friends & REAL Music Fans this week I'll Swing it off with The King of Western Swing Bob Wills & The Texas Playboys Tommy Duncan on Vocal. And BTW Monday March 6 Marks what would be his 118th Birthday! Followed by The Ambassador of Western Swing Billy Mata & The Texas Tradition, Friends Who Like Jake Hooker and the Outsiders, Jason Roberts. Jody Nix and The Texas Cowboys. As we prepare for The 51st Annual Bob Wills Day, Turkey, Texas!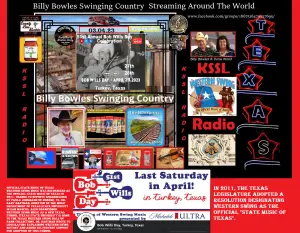 Next up Recent World Radio Premiere Songs that are Gaining Big Attention as we hear from Lonnie Spiker & Sparkling Cathy Jewell, Sammy Sadler, Carl Vaughan, Donna Richard Lynch, Scott Southworth.
And as we also Prepare for the 23rd Annual Cowtown Society of Western Music Western Swing Swingfest I'll be spinning from Past & Present Artist The late H.F. Ritchie, The late Bobby Flores, The Late Gil Prather, and Jimmy Burson, Emily George, Brady Bowen & Swing Country.
The next grouping features David Paul Nowlin, Amber Digby Lindley & @Jerry Naill, Brad Howard.
Then Serious Music have the tissue handy as you listen to Hallmark Chuck Cusimano, Levi Mullen, & A Double Shot from Gerald Smith.
Next up Shane Vandiver & The Nightlife, Albert Leon Payne, Bobby Mackey.
Then Quickly Approaching Shows The Coyote Store Gail TX. The Malphass Brothers, Moe Bandy. Double Shots each.
Closing out with Insprational Songs from Cathy Jewell, Zac Clifton.
SATURDAY MORNING 10:AM – 12:PM CST USA @ KSSLFM.COM
JOIN ME DURING THE INITIAL BROADCAST ON MY PERSONAL TIMELINE FOR SWING – BACK FOR CHAT FUN FELLOWSHIP PICTURES ETC. Until then May God Bless You and Yours 🙂 Keep Swinging Country—




Swinging Country March 04