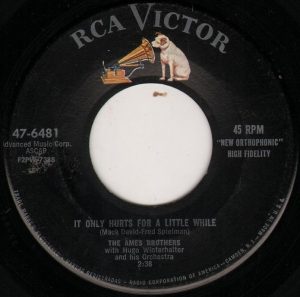 Margo Smith – It Only Hurts for a Little While, is a 1956 popular song with music by Fred Spielman and lyrics by Mack David.
The recording by The Ames Brothers was released by RCA Victor Records as catalog number 20-6481. It first reached the Billboard magazine charts on May 19, 1956. On the Disk Jockey chart, it peaked at #15; on the Best Seller chart, at #16; on the Juke Box chart, at #11; on the composite chart of the top 100 songs, it reached #15.
In 1978, Country Music singer Margo Smith released her version of the song b/w Look Out Mountain, and it went to number one on the Country charts that year and was her second and last number one. It was released on her album Don't Break the Heart That Loves You that year.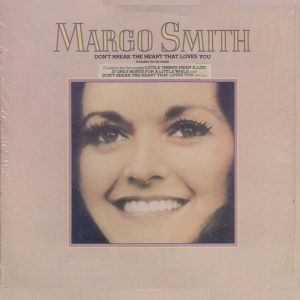 Margo Smith – It Only Hurts for a Little While
From Album Don't Break The Heart That Loves You
Sello: Warner Bros. Records – WBS 8555
Formato: Vinilo, 7″, 45 RPM, Jacksonville Pressing
País: US
Publicado: 1978
Género: Pop, Folk, World, & Country
Estilo: Vocal, Country
Writte: Fred Spielman, Mack David
Margo Smith – It Only Hurts for a Little While lyrics
(Verse 1)
It only hurts for a little while
That's what they tell me
That's what they say
Oh, it only hurts for a little while
Then all your heartaches
Will pass away
(Chorus)
It's so easy to be smart
With somebody else's heart
But I don't know how to start
Forgetting you what can I do
(Verse 2)
It only hurts for a little while
That's what they tell me
Just wait and see
But I will hurt
'Till you come back to me
(instr.)
(Verse 3)
It only hurts for a little while
That's what they tell me
That's what they say
It only hurts for a little while
That's what they tell me
Just wait and see
But I will hurt
'Till you come back to me