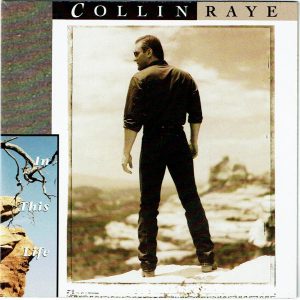 Collin Raye – In This Life, is a song written by Mike Reid and Allen Shamblin, and recorded by American country music singer Collin Raye that reached the top of the Billboard Hot Country Singles & Tracks chart. It was released in July 1992 as the first single and title track from his CD In This Life.
Deborah Evans Price, of Billboard magazine reviewed the song favorably, saying that the "control, emotion, and integrity with which Raye delivers such tender material is seldom achieved."
The song debuted at No. 58 on the Hot Country Singles & Tracks chart dated August 1, 1992. It charted for 20 weeks on that chart, and became his second Number One single on the chart dated October 3, 1992, where it remained for two weeks. It also peaked at No. 21 on the Adult Contemporary chart.
Collin Raye – In This Life
From the album In This Life
B-side "Blue Magic"
Released July 27, 1992
Genre Country
Length 3:13
Label Epic
Songwriter(s) Mike Reid, Allen Shamblin
Producer(s) Garth Fundis, John Hobbs




Collin Raye – In This Life Lyrics
[Verse 1]
For all I've been blessed with in this life
There was an emptiness in me
I was imprisoned by the power of gold
With one honest touch, you set me free
[Chorus]
Let the world stop turning
Let the sun stop burning
Let them tell me love's not worth
Going through
If it all falls apart
I will know deep in my heart
The only dream that mattered
Had come true
In this life
I was loved by you
[Verse 2]
For every mountain I have climbed
Every raging river crossed
You were the treasure that I longed to find
Without your love I would be lost
[Chorus]
Let the world stop turning
Let the sun stop burning
Let them tell me love's not worth
Going through
If it all falls apart
I will know deep in my heart
The only dream that mattered
Had come true
In this life
I was loved by you
[Outro]
In this life
I was loved by you