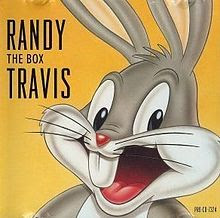 "The Box", a song written by Randy Travis & Buck Moore, was recorded by Randy Travis, for the Warner label, in the fall of 1993, at Nightingale Recording Studio, 1815 Division St., Suite 115, Nashville, TN. The song was released on February 6, 1995, produced by Kyle Lehning. The Box reached # 7 on the US Hot Country Songs charts on April 29, 1995, and remained a total of 20 weeks on the charts. On the Canada Country Tracks charts, it reached # 2.
The song was included in Randy Travis' ninth studio album, This is me (Warner 1994), the album was released on April 26, 1994, on May 21, 1994, reaching number # 10 on the charts. US Top Country Albums, the album stayed 54 weeks on the charts. On the Canadian RPM Country Albums charts, it peaked at # 5. The album was certified gold in the USA.




About the song:
The song is a story of a son who finds a box his father kept full of memories of his family. As the son goes through the box, he is reminded that his father loved his family but it wasn't easy for him to say "I love you".
Miquel Batlle Garriga
mbatllegarriga@gmail.com




Randy Travis – The Box Lyrics
On the top shelf in the closet,
In the workshop where he spent his extra time
Was a dust wooden box that I had never noticed till that time
And we set on the table and carefully, we opened up the top
And stared into the memory
Daddy kept inside the box
There was a letter from mamma, when she went out to Reno
To help her sister out in 62
And a flower from Hawaii, when they went on vacation
It was the first time that my Daddy ever flew
And the pocket knife I gave to him on Fathers day
Years ago, I thought it had been lost
We all thought his heart was made from solid rock
But that was long before we found the box
I guess we always knew it but "I love you" was hard for him to say
Some men show it easy and some just never seem to find the way
But that night I began to see the softer side of some I had lost
I saw the love he kept inside the first time we opened up the box
There was a picture that was taken, when he and Mom were dating
Standing by his 1944, and the faded leather Bible, he got when he was baptised
I guess no one understood him like the Lord
And the poem that he had written, about his wife and children
The tender words he spoke were quite a shock
We all thought his heart was made of solid rock
But that was long before we found the box
Yes that was long before we found the box