Bob Wills – Sugar Moon, is a Western swing love song written by Bob Wills and Cindy Walker.
The song was first recorded by Bob Wills and The Texas Playboys in 1947 (Columbia 37313), where it reached number one, staying on the charts six weeks.
The title comes from a refrain in the chorus:
When it's sugarcane time,
Long around about June,
I'll be walkin' with sugar
'Neath that old sugar moon.
It has been covered by other artists including:
k.d. lang covered it on her Shadowland album (1988)
Asleep at the Wheel
Willie Nelson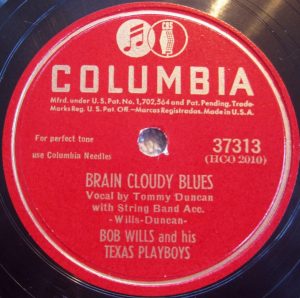 Bob Wills – Sugar Moon
B-Side Brain Cloudy Blues
Sello: Columbia – 37313
Formato: Shellac, 10″, 78 RPM
País: US
Publicado: 1947
Género: Folk, World, & Country
Estilo: Country, Western Swing
Written – Bob Wills and Cindy Walker




Bob Wills – Sugar Moon Lyrics
[Chorus]
When it's sugarcane time along around about June
I'll be walking with sugar neath that old sugar moon
Gonna drop her a line to expect me soon
Say I'm craving some sugar neath the old sugar moon
[Verse 1]
I can see her right now she'll get the calendar down
Scratch a circle around the day we're altar bound
When it's sugarcane time long around about June
Wedding bells will be chiming neath the old sugar moon
[Instrumental Break]
[Chorus]
When the sugar moon shines along about June
I'll be walking with sugar neath that old sugar moon
All the kisses I missed I'll be getting 'em soon
Sugar kisses from sugar neath that old sugar moon
[Verse 2]
I'm dreaming sweet dreams of all the loving I'll get
I get back to my pet lordy how I'll fret
Till it's sugarcane time long around about June
I'll be walking with sugar neath that old sugar moon