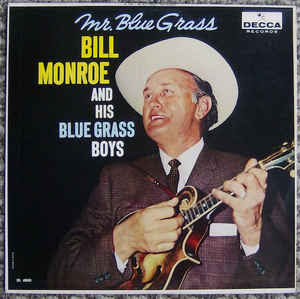 "It's Mighty Dark To Travel", song written by Bill Monroe and recorded by Bill Monroe & His Blue Grass Boys for the Columbia label, on October 27, 1947, on CBS Studio, Radio Station WBBM, The Wrigley Building, 410 North Michigan Ave., Chicago, IL. In the same recording session, seven other songs were recorded, Bill was accompanied at this session by: Lester Flatt (lead vocal and guitar), Earl Scruggs (banjo), Howard Watts (bass) and Chubby Wise (fiddle). With the production of Art Satherley, the song was released in 78 RPM format on December 27, 1948.
The song would be re-recorded on December 3, 1960, at Bradley Film & Recording Studio, 804 16th Ave. South, Nashville 3, TN. In this session Bill was accompanied by: Carl Butler (gt), Curtis McPeake (banjo), Tony Ellis (bass) and Dale Potter (fiddle). With the production of Owen Bradley. The song was not released in single.
The song was featured on Bill Monroe's third studio album, Mr. Blue Grass (Decca 1961).




Some versions:
Charlie Keaton & The Primary Suspects 1974 (Bluegrass Records)
The Ridgerunners 1977 (Atteiram Records)
The Potomac Valley Boys 1979 (Old Homestead Records)
The Bluegrass Cardinals 1984 (BGC Records)
Peter Rowan 1986 (Sugar Hill)
Jim & Jesse and The Virginia Boys 1993 (CMH Records)
Blue Dogs 1993 (BDM)
Kruger Brothers 1998 (Double Time)
Ricky Skaggs & Kentucky Thunder 1999 (Skaggs Family Records)
Bill Monroe – It's Mighty Dark to Travel lyrics
It's mighty dark for me to travel
For my sweetheart she is gone
The road is rough and filled with gravel
But I must journey on and on
To me she was a little angel
Sent down to me from God above
And on the day that I first met her
Then I told her of my love
Many a night we strolled together
Talking of our love so fair
My love for her will never vanish
Oh I know I'll meet her there
Traveling down this lonesome highway
Thinking of my love who's gone
Knowing soon we'll be together
She's the only love I've known